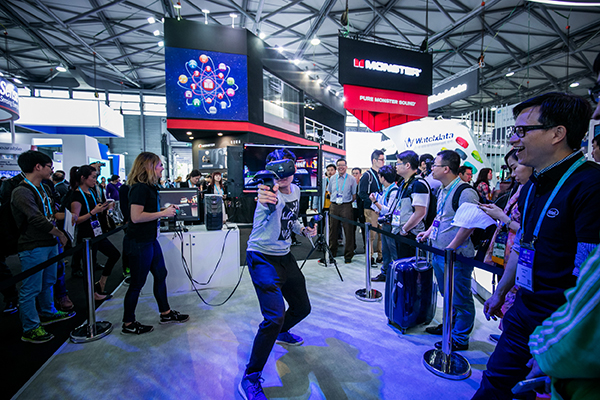 A man tries out a virtual reality headset at the 2016 CES Asia in Shanghai. There were more than 200 exhibitors at this year's show. [Photo provided to China Daily]
Shanghai has in recent months become a second home for Xie Fayan, a Xiamen-based maker who frequently enters the city to attend exhibitions and showcase Guguji, a small portable printer he created that can be used to print messages and social media content on mobile phones.
"It is always exciting to see many makers like myself in Shanghai who are bringing handy solutions to make life easier," said the 26-year-old Xie at the recent 2016 Consumer Electronics Show Asia (CES Asia) held in Shanghai.
The event this year featured more than 200 exhibitors from around the world.
"China's push for innovation and entrepreneurship is now stronger than ever and this trend not only impacts Chinese investors and consumers, but also extends the country's influence globally. Increasing numbers of tech makers have been bringing their projects to China to seek investments while Chinese products of good quality have also been making their way into the global market," said Liu Chuan, a Shenzhen-based analyst with Daoyuan Management Consultancy Ltd.
According to data from the National Development and Reform Commission (NDRC) which was released on May 20, the number of makers and entrepreneurs in China has been booming in the past couple of years.
In 2015, 14 million new entities were registered, representing a 14 percent year-on-year growth. Meanwhile, some 558,000 university graduates and college students had started their own businesses, a 16.9 percent year-on-year increase.
Angel funds in China had also surged significantly, according to the NDRC report. In 2015, the combined angel funds in China reached 20.36 billion yuan, three-fold the amount in 2014. By the end of 2015, China was home to about 3,000 venture capital funds and angel funds which had a combined capital of more than 1 trillion yuan.
"A pro-entrepreneurship policy environment, the rising numbers of funding opportunities and the allocation of more social resources to encourage innovation are in line with the country's aspirations to transform its economic growth patterns and upgrade its manufacturing and industrial sectors," said Sun Weimin, chief of the information department at the Ministry of Industry and Information Technology. Sun is also in charge of an annual contest for manufacturers hosted by the ministry.
Sun noted that another major factor behind the growth of China's innovation sector is the support provided to manufacturers and entrepreneurs by local governments and enterprises. For instance, several funds have been set up to support the innovation drive and comprehensive networks have been established to help startups locate investors and incubators. There are more than 20 incubators and industrial zones in Shanghai that cover a wide range of sectors, including robotics, navigation and healthcare.
"We have held two contests for manufacturers in the past two years and some of the award-winning projects have been introduced to enterprises which can take advantage of these innovative technologies. For example, a three-dimensional shoe-making project has been turned into a shoe-making enterprise and will be heading into mass-production, while another project that utilizes robotics to handle logistic tasks has been popularized in the logistics sector," said Sun.
One of the new trends that manufacturers have noticed is the shift in interest toward products that are environmentally friendly. One such company at CES Asia that fits this mold is Sheedo, which creates paper made from waste cotton. The unique thing about this product is that it also has seeds embedded in it-people can plant it in the ground after usage instead of disposing it in a rubbish bin.
"China is now becoming more concerned about the environment and it's time for Sheedo to grow here in Shanghai. The business model is simple to understand-it is about turning raw materials into valuable and environmentally friendly products such as business cards, flyers, coasters, chopstick-holders and many other things that can be made using paper," said Gloria Gubianas Blanes, the founder of the Barcelona-based company.
Another notable project at CES Asia this year was a body temperature monitor that looks like a band-aid. Developed by a Changzhou-based medical technology enterprise, the device is powered by paper battery technology and can monitor a person's temperature for up to 48 hours.
"It may be a small gadget but there is great demand for such devices. In China alone, more than 800 million thermometers are produced annually," said Xie Rui, the marketing specialist of the project.
Industry experts said that they expect to see more manufacturers working in teams and leveraging each other's expertise as the competition heats up in the innovation scene. Xia Junfeng, project manager with startup incubator Nanjing Maker Space, said that manufacturers need to work with other parties if they want their products to reach the commercialization stage as quickly as possible.
"It is unlikely for one individual to handle all the tasks involved, such as product design, marketing, intellectual property rights protection and fundraising, so manufacturers will need to work in teams to be more efficient and effective," said Xia.
"The days of being able to present an idea and secure easy funding are gone. Investors today are very savvy and they demand easy-to-understand business models as well as good designs. Very often, makers will also need to take advantage of social media to extend the reach of their projects."