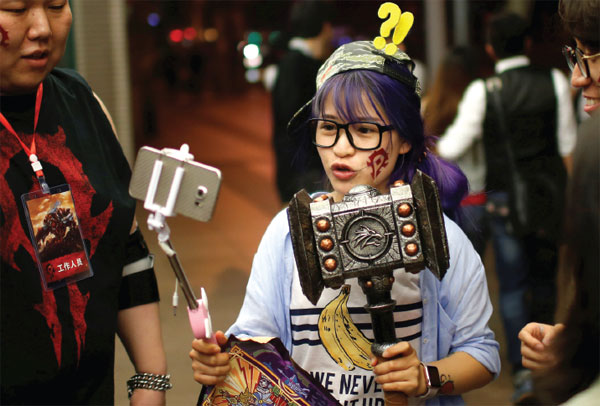 A fan livestreams her participation during China's premiere of the film Warcraft at a theatre in Shanghai on June 7, 2016. [Photo/Agencies]
China's investments and acquisitions help Hollywood continue to globalize its products as well as connect with the Chinese market, said senior executives from US movie producers.
"For the business to work, you need to work on a global stage," said Martin Willhite, chief operating officer and general counsel of Legendary Entertainment, which has produced such blockbuster films as Godzilla.
"From the earliest days, the plan (of Legendary) is to reach and deliver the products to the biggest audience possible," Willhite added.
The company was building a global product instead of a US product, said Willhite, talking at the Select LA Investment Summit on Friday. He said Legendary decided to expand its global reach by setting up an office in China in 2011 to understand how the industry worked there.
Early this year, Legendary was acquired by China's Dalian Wanda Group for $3.5 billion.
"As the company grew, we understood globalization, frankly, has more success," said Willhite, adding that Legendary has gone through having different kinds of capital partners - from private equity firms to institutional capital and to strategic and financial investors.
He said it was "enormously fortunate" to establish the business relationship with Wanda because "when you can align your strategy with someone who can share your perspective globally, you become extraordinary".
Jack Gao, vice-president and CEO of Wanda Cultural Industry Group, referred to the movie Warcraft, which was produced by Legendary and had a record-breaking opening in China. It has made $200 million so far, and 90 percent of the tickets were sold via mobile internet.
Thomas McGrath, COO of STX Entertainment, said China was a much more profitable market than the US, using the example of Transformers.
Transformers grossed $400 million in the US and spent close to $80 million on marketing, but the same film earned $480 million in China on $20 million in marketing, he said.
"The reason is the online tool is far more highly developed in China than in the US, with greater reach to the audience and more use by the consumers, and interconnectivity of the users," McGrath said.
Partnerships with Hollywood are part of Wanda's global expansion strategy, from studios to distribution to cinema lines, Gao said.
"We are in the very early stage in the industry as well as in the process of globalization," said Gao, adding that Wanda aims to be a "strategic investor" by adding value to Hollywood and connecting Hollywood moviemakers to the Chinese market, rather than taking on Hollywood.
He said Wanda had a clear vision called "2-2-1-1", which means $200 billion in assets, $200 billion market cap, $100 billion annual revenue and $10 billion annual profit.
In order to grow 20 percent every year, Gao said Wanda was transforming from a commercial property business into a cultural one, mainly film and sports, and the move created "enormous growth" - more than 40 percent last year.