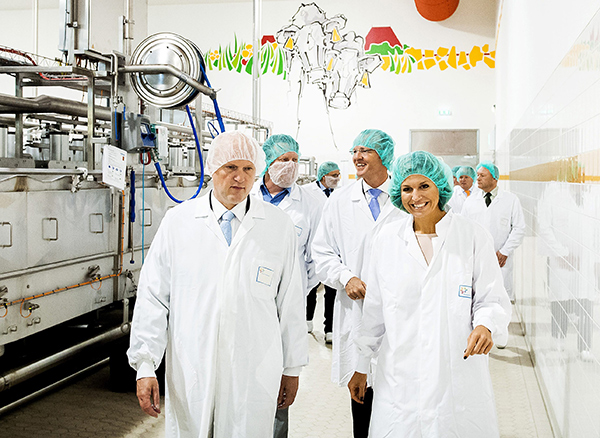 Queen Maxima of the Netherlands (right) visits the cheese factory of FrieslandCampina in Workum, the Netherlands. [Photo/Agencies]
Dutch global dairy giant Royal FrieslandCampina is bullish on the long-term growth of dairy market in China and plans to expand its business in third- to six-tier cities and rural areas.
Together with Chinese retail giant Suning Commerce Group, it plans to launch online and offline stores to bring high-quality Dutch dairy products to rural areas in China next year. It will help improve sales of local agricultural products through online stores to city consumers.
"Developing rural e-commerce is a long-term project. Suning plans to build an e-commerce platform that will help drive rural economic growth," said Sun Weimin, Suning's vice-chairman.
Established in 1871, Royal FrieslandCampina has become one of the world's largest dairy producers. Last year, it netted about 1 billion euros ($1.13 billion) in sales revenues in China, posting double-digit growth year-on-year.
The company expects the Chinese dairy market to grow significantly following the country's new two-child policy.
Royal FrieslandCampina said despite the high potential and tremendous growth space in rural markets, rural consumers lack scientific and health knowledge. It will organize seminars on nutritional diet, mother and baby care, and send 20 nutritionists to provide nutritional consultancy in Suning stores in rural areas.
Royal FrieslandCampina donated an initial 1 million yuan ($151,900) to the China Foundation for Poverty Alleviation, to train women in impoverished rural areas to become certified maternity service workers.
In the first year of the project, the company plans to train 100 women who come from poverty-stricken villages in Anhui, Henan, Hebei and Gansu provinces. The dairy producer will use professionals to provide training in pregnancy and birth, nutrition and nursing care for mothers and infants, and early childhood education, to arm those women with professional skills and improve their lives.
It said the training will also help meet the increasing demand of maternity matrons in cities as the new national policy, which encourages couples to have two children as against one in the past, accelerates the demand for qualified nursing care services.
"We originated from a Dutch village and has about 19,000 farmers as our shareholders. This is why we have strong bond with villages, farmers and agriculture," said Roelof Joosten, chief executive of Royal FrieslandCampina.
"We have noticed the dilemma of the undersupply of qualified maternity matrons and the huge demand in Chinese cities," he added.
"I believe the project will help these 100 women upgrade their professional skills, find a well-paid job, and also free working mothers from difficulties in finding reliable and professional services."