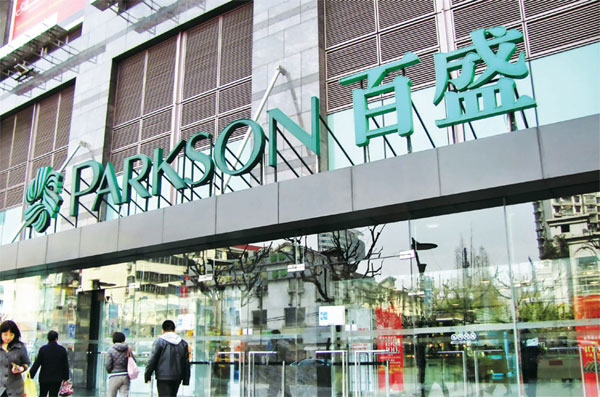 As a traditional retailer, Parkson Retail Group recorded an 8-percent drop in same-store sales in 2015. [Photo/Asia News Photo] 

Retailer looks to lower-tier cities and multipurpose destinations
Parkson Retail Group, the retail division of the Malaysian Lion Group, will transform department stores into broader commercial complexes and will expand to lower-tier cities, said William Cheng, executive chairman of Lion Group.
Cheng was speaking at a meeting in the eve of the Lion Mall's opening in Qingdao, the group's first comprehensive shopping destination in China, hosting department stores, shopping malls, restaurants, cinemas and an indoor entertainment park.
"In the future, we aim to make all of our properties in China like this Lion Mall in Qingdao, which meets demands from the younger generation of consumers," said Cheng.
Parkson has closed more than 10 stores in more than five cities in China in the past five years, and the group's financial reports said that stand-alone department stores' profitability has been declining in the past quarters. At the same time, the retailer's strategy focuses on opening new stores in lower-tier cities, including Datong in Shanxi province, and Panzhihua and Mianyang in Sichuan province.
Food and beverage used to take up less than 10 percent of the tenant space in some of the old versions of Parkson department stores, but now the group aims to push up the share of restaurants, coffee, patisseries to some 30 percent, said Cheng.
Retail expert Joey Chio, senior associate director of Savills China Retail Tenant Representation, said department stores as well as shopping malls are both facing challenges as e-commerce is expanding fast.
In a bid to attract consumers to bricks-and-mortar stores, department stores and shopping malls have been changing tenant portfolios and upgrading interior designs, adding more functions and facilities,
In its latest annual research report, the Chinese Academy of Social Sciences showed that 25 percent of Chinese consumers' spending was on foods and beverages, while only 9 percent was on clothing.
The latter accounted for more than 30 percent before 2010.