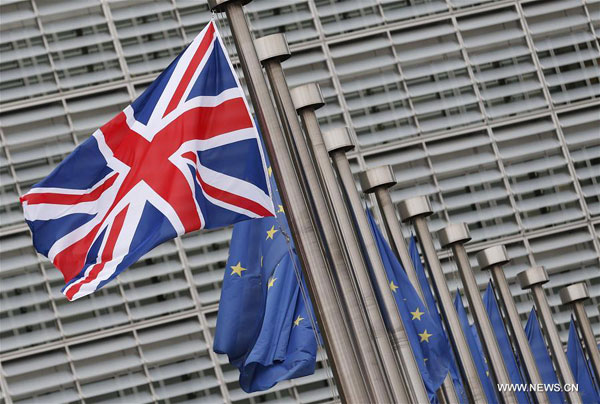 Photo taken on Jan 29, 2016 shows the UK and EU flags outside the European Commission headquarters in Brussels, Belgium. [Photo/Xinhua]
Geese don't come much more golden than the City of London.
The narrow lanes of the Square Mile, lined with handsome neoclassical stone and gleaming modern glass, are at the heart of a British financial sector that paid 66 billion pounds ($94 billion) in tax last year and employs more than 2 million people nationwide. It is also without a doubt the country's most lucrative industry.
Yet ahead of a June 23 referendum on European Union membership, many of the City's leading lights are deeply worried about its future. London has become the undisputed financial capital of a united Europe - a status that now hangs in the balance.
"Just because the City is strong at the moment doesn't mean that it has a perpetual right to remain so," said Marcus Agius, 69, the chairman of Barclays Plc during the 2008 global financial crisis.
"Brexit would be an act of supreme folly. In the future we would look back and wonder: 'Why the hell did we do that? What were we thinking?'"
City proponents of a Brexit see it as a way of making the financial industry more globally competitive by potentially unshackling it from some EU rules like bonus caps. But the leaders of global banks said a Leave vote would drive them away.
They employ the lion's share of the 400,000 workers in the financial district and have been clear about their intentions. JPMorgan Chase & Co Chief Executive Officer Jamie Dimon has 16,000 employees in London and other British cities, and this month told staff a vote to leave could mean a quarter of those jobs might be cut.
Executives at Citigroup Inc, Goldman Sachs Group Inc and HSBC Holdings Plc have all issued similar warnings.
Central to the Brexit concern is the issue of "passporting". Under EU law, a bank incorporated in any one member state can sell its products and services in all 28, thus accessing a $19 trillion integrated economy with more than 500 million citizens. It's a regime that allows even the largest banks to get by with only satellite offices in hubs like Paris and Madrid, and none at all in many other EU countries, keeping the overwhelming bulk of staff in London.