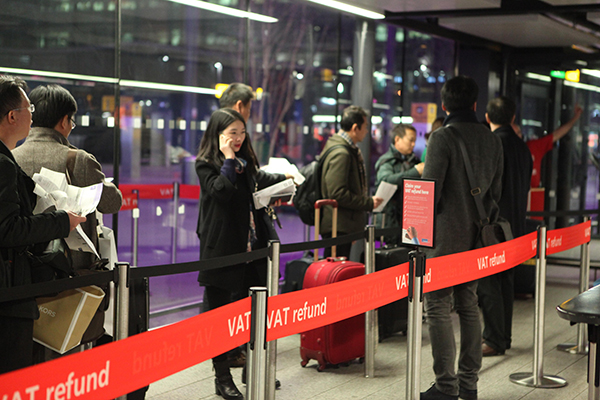 Chinese tourists stand in a queue to get VAT refund at London Heathrow Airport Terminal 3. [Photo/China Daily]
Time-consuming procedure, hidden fees dent Britain's image as shopping destination
Tourism experts and overseas visitors, including those from China, have criticized the United Kingdom's tax-refund system for being too complex and time-consuming.
The system, in place since 1995, allows tourists from outside the European Union to claim back valued-added tax on any purchases made in the country upon departure. Yet critics argue that it threatens the UK's bid to become a major shopping destination.
"The poor VAT refund experience, as well as hidden fees, certainly decreases Chinese travelers' satisfaction about their UK travel and lowers the UK image as a destination," said Yang Jingjing, a lecturer on tourism development at the University of Surrey.
According to the rules, non-EU residents who buy goods in the UK can apply for a VAT refund when they leave the country. In theory, this involves filling out a form and presenting it with receipts to a refund booth, like those at the airport. In practice, however, the procedure can be time-consuming, proving an extra burden for passengers who already need to pass through lengthy security checks.
The complexities of the procedure, the number of companies that operate refund programs, and long lines at airport counters mean many tourists are either losing out or being charged what some say are exorbitant fees.
Chen Lizhi, a recent Chinese graduate of Loughborough University in the East Midlands, said that she spent 4,000 pounds ($5,680) on luxury bags, clothes and skin care products during a London shopping trip, paying about 700 pounds in VAT.
"I ended up receiving a refund of just 368 pounds," she added. "I didn't expect there'd be an additional handling fee at the airport counter, as a big chunk had already been taken out at the time of the purchase. Also, the currency exchange rate at the refund desk is low compared with high-street rates.
"I may hesitate to shop again in London as the cost of getting a refund is too high."
To qualify for a VAT refund, tourists have to spend a minimum amount, which varies from retailer to retailer. At the point of sale, foreign customers can ask for a refund form and the retailer and/or the VAT refund operator will charge a service fee. Rates vary depending on the sum and the operator.
The main refund operators are Global Blue, Premier Tax Free, Tax Free Worldwide and Innova Tax Free, while companies such as Travelex, Moneycorp and International Currency Exchange act as agents to process the refunds and handle currency exchanges.
"I'm very confused by the different rates charged by the retailer and the VAT refund operators," said Qian Sujia, a frequent visitor to the UK from Hangzhou. "As a tourist, I can't do much, but I'd appreciate it if someone could provide a clear table for what will be charged."