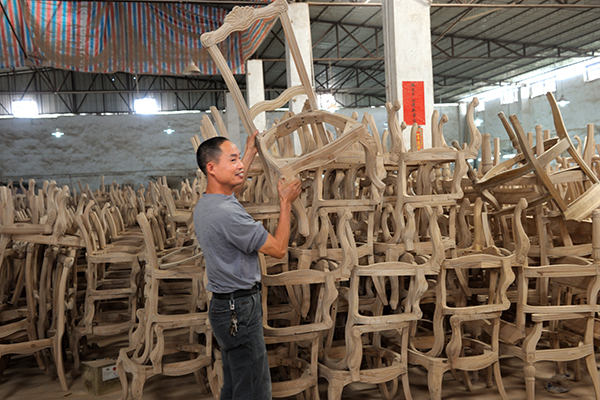 A worker carries an unpainted chair in a furniture factory in Dongguan, Guangdong province. The traditional Chinese-style furniture is mainly for export. [Photo provided to China Daily]
Guangdong Lianying Furniture Co started its online business only after the company, based in the southern manufacturing hub of Dongguan, set up a sales office in an electronic business park two years ago.
The company, which has been engaged in traditional furniture manufacturing for 15 years, suffered several consecutive drops in sales due to sluggish demand for factory and school dorm room furniture after the global economic downturn in 2008.
"We were almost on the edge of bankruptcy in 2012 when the company generated less than 10 million yuan ($1.53 million) in annual sales," said Zhang Xilin, chief executive officer of Lianying Furniture Co.
The company responded to the sluggish growth by setting up an office in the e-commerce park, with more efforts being made in business-to-business services to reduce production and labor costs.
"We found a new market online-sales grew quickly and production efficiency increased significantly," said Zhang.
The e-commerce park, which was once the workers' dormitories for a Microsoft Nokia mobile phone factory in Nancheng district of Dongguan, now accommodates 120 online sales offices for local traditional manufacturers, which have developed strong needs to upgrade their business amid sluggish market demand.
The park was designed by the government as an incubator where traditional enterprises or products transform and upgrade via digital operation.
"In the past, traditional manufacturers like us did not know about the customers' needs and expectations. But the Internet has helped us learn more about global market trends," said Zhang.