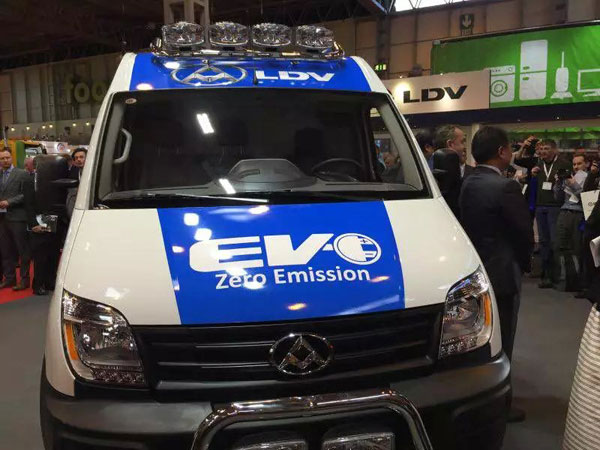 Maxus, the commercial vehicle wing of SAIC unveiled on Tuesday its zero emission electric LDV EV80 at the Commercial Vehicle Show in Birmingham. [Photo by Li Wensha/chinadaily.com.cn]
Chinese carmaker SAIC Motor is bringing LDV, once one of Britain's best-known light vehicle brands, back to its home market for the first time since it acquired the company from administration in 2009.
SAIC reworked the LDV vehicle and in 2011 launched the first vehicle based on LDV technology, the V80, which sells in 40 markets worldwide.
Now the Shanghai-based company has rebranded it as Maxus, and plans to market it widely in the UK.
LDV, which was once the main supplier to UK government services such as the Royal Mail, police and other emergency service, finally went into liquidation in 2009 after struggling against increased competition from German, French, Japanese and South Korean manufacturers.
SAIC, currently China's largest car manufacturer, has leveraged on its in-house research and development capability to give LDV-based vehicles big improvements.
Recognizing the importance of LDV's home market, the UK, SAIC Motor ismounting a big presence to promote the Maxus brand at Birmingham's Commercial Vehicle Show, which started on Tuesday.
Lan Qingsong, SAIC Motor vice president, said, "Maxus has kept the LDV brand DNA and upgraded the core technologies to bring about a better choice, a more reliable and more enjoyable user experience. Maxus is changing the view of Made-in-China vehicles."
All three of the Maxus models are on show, the V80, EV80 and G10. The V80 has its roots in the LDV technology that SAIC bought, and EV80 is the electric cousin of the V80. G10 is a premium people carrier that SAIC developed, which was launched in 2014.
SAIC's push for Maxus in the UK rides on a wave of Chinese carmakers' aggressive international expansion in recent years through acquiring struggling Western brands that offered good technology and brand value.
One key example is the Hangzhou-based Geely's acquisition of Swedish car brand Volvo and London's iconic black cab maker, The London Taxi Company. SAIC itself bought the intellectual property rights to the Birmingham company MG Rover in 2005.
Yang Honghai, director of public relations for SAIC Maxus, said the UK market's importance is twofold, because of its large light commercial vehicle (LCV) market and the LDV brand's established reputation in the UK, which SAIC sees as significant factors pointing to significant market potential.
Globally, sales of Maxus totaled 10721 vehicles in the first quarter of 2016, representing a year-on-year 53 percent increase. Yang said Maxus' international sales are planned to increase to 30-40 percent of overall revenue by 2020.
"We want to be a premium LCV brand, therefore our focus is on mature developed economies with high consumption ability, as well as the premium segment of China's LCV market," Yang said.
The V80, of which SAIC has already sold 3,000 units to its UK distributor Harris Group last year, is now slowly being rolled out across the UK market. SAIC anticipates G10 will go on sale in the UK soon, after the company makes necessary adjustments to the vehicle based on feedback it receives at the Birmingham auto show.
The EV80 will go on sale at a later date, depending on government regulation and charging infrastructure availability concerning electric vehicles.
Yang said that Maxus' competitive advantage is its quality design combined with value for money, adding SAIC has taken care to ensure Maxus is not marketed as a cheap competitor to its international counterparts.
The V80, which retails at around 140,000 – 150,000 yuan ($21,000 – $22,500) in China, retails around the equivalent of 160,000 – 180,000 yuan in most international markets. In comparison, the UK's current LCV leader, the Ford Transit, is selling with an entry retail price of 18,295 pounds ($27,500).
Ian Fletcher, principal analyst of IHS Automotive, a US-based consultancy, said that Maxus faces strong competition in Europe, which is dominated by very established "aggressive players" like Ford, Volkswagen, General Motors and Daimler.
Tim Rodie, head of content at carwow.co.uk, a UK car-buying platform, said that LDV's image in the UK was traditionally one of a functional vehicle, meaning it focuses on the basics.
"Seeing that the premium vehicle market in the UK is growing with increasing availability of affordable financing options, SAIC's launch of the Maxus premium model, the G10, is a smart move," he said.
Brian Millar, director of strategy at Sense Worldwide, a UK-based consultancy, said that Maxus' entry into the UK market came at a time when consumers care increasingly less about the brand heritage and more about reliability and costs of the actual products, especially for the demanding commercial vehicle sector.
"The buyer in most cases will be concerned with leasing deals, reliability and economy. They're not going to be driving the thing. The buyers don't have a lot of interest in 'badge value', so brand is far less important," said Millar, who explains such market characteristics will benefit new Asian car brands looking to establish themselves in the UK.
Fletcher said he believes Chinese automakers' acquisition trend will continue, although it depends on the market availability of suitable targets.