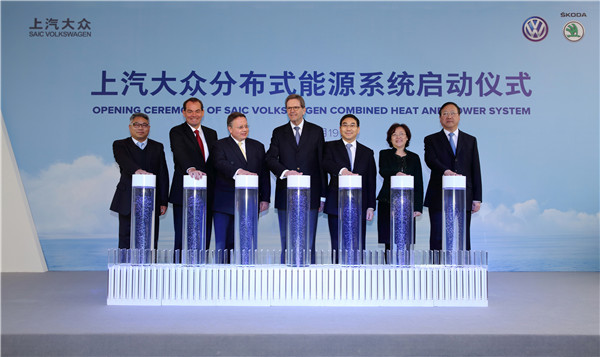 SAIC VOLKSWAGEN executives unveil an environmentally friendly power system at its No 3 car plant in Shanghai on Feb 19.CHINA DAILY
SAIC VOLKSWAGEN unveiled an environmental-friendly power system at its No 3 car plant in Shanghai on Feb 19, marking another milestone in the carmaker's green and sustainable development strategy.
The project, called the Combined Heat and Power System, consumes natural gas to generate power and heat. Begun in April 2015, it is capable of providing 26,000 kilowatt of electricity and 60 tons of steam per hour.
With the capacity to produce more than 130,000 megawatt-hours annually, the system can meet the electricity demands of the CPA3 and EPA2 platforms, and at the same time produce 60 tons of steam per hour, which is enough to cope with the general steam load of the company's Anting manufacturing base in summer, and also in winter if the contribution of the gas boiler is counted in.
It will provide most of power and steam needed at the No 3 car plant at Anting, where the last coal-fueled furnaces were replaced with clean energy generators from late 2015, said SAIC VOLKSWAGEN, the first automaker in China to have passed ISO 14001 standards.
The power system is the first of its kind for industrial purposes in Shanghai. It is also the first in Volkswagen's plants in China, which can be considered a landmark for its car production.
The new system not only provides steam and electricity for SAIC VOLKSWAGEN's No 3 car plant, but also enables the company to be totally independent of coal boilers. As a result, the system can utilize natural gas in a more effective way and its application will save the automaker 11,594 tons of standard coal each year, and reduce its CO2 emissions by 59,308 tons.
The power system is part of SAIC VOLKSWAGEN's clean air program that began in 2010.
At least 18 energy-saving and environmentally friendly technologies have been introduced into the automaker's plants including geothermal heat pumps, natural gas boilers to replace coal-fueled models and photovoltaic power generation.
Those moves have slashed its plants' volatile organic compounds by 75 percent and cut their carbon dioxide emissions by 200,000 tons per year.
SAIC VOLKSWAGEN, a longtime pioneer in clean production, has equipped all its plants in China with the latest water-based paint workshops.
The government rated its plants in Changsha, Hunan province, and Ningbo, Zhejiang province, as three-star green buildings.
Improved CSR
Despite its achievements, SAIC VOLKSWAGEN is not resting on its laurels. For the automaker, sustainable development is an important part of its corporate social responsibility. In 2015, it strengthened its efforts in environmental protection and to raise awareness about energy-saving among its employees, SAIC VOLKSWAGEN introduced "green labels" under five themes at all of its factories: energy, carbon dioxide, water, volatile organic compounds and waste.
SAIC VOLKSWAGEN is one of the oldest and largest joint ventures in China's automaking industry. It ranked first in 2015 in the country with sales totaling 1.81 million vehicles and stayed on top of the list by selling 208,286 cars in January.
While offering a more diversified lineup of models for customers, it will proactively fulfill its green promises by introducing more environmentally friendly technologies, thus promoting sustainable development of not only SAIC VOLKSWAGEN but also society as a whole.