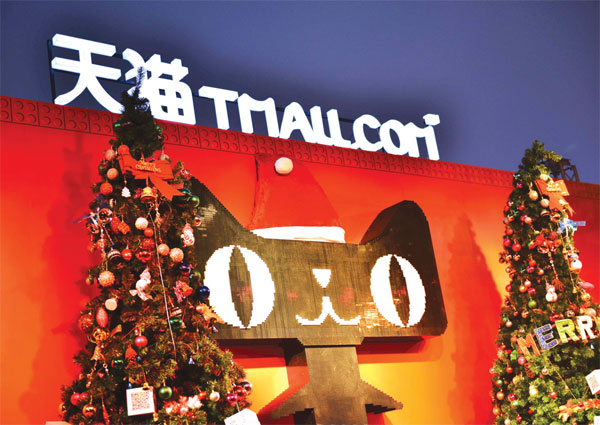 A Tmall logo made from Lego bricks is displayed in Hangzhou, the headquarters of Alibaba Group Holding Ltd. Long Wei / For China Daily 
China's largest consumer-to-consumer platform taobao.com yesterday issued an open letter on its Weibo account, publicly accusing the State Administration for Industry and Commerce (SAIC) of abusing power and ruining the reputation of Taobao.
According to a recent survey commissioned by the SAIC, less than 40 percent of surveyed commodities sold on taobao.com were authentic. In the letter, penned by an anonymous employee, Taobao questioned the poll's sampling method and its test standards, claiming that the regulator issued the survey results without giving the e-commerce giant a chance to appeal.
Regarding Taobao's challenge, SAIC issued an immediate response. Hours later, Yang Hongfeng, an official with SAIC's e-commerce trading supervision department, stressed that all the activities they conducted was in line with the law.
Yang also pointed out that the result of the quality test cannot accurately reflect the situation of goods sold on the whole online shopping market because they only randomly chose a tiny number of commodities during a very short period.
Taobao plays a pioneering role in the e-commerce industry,which is transforming consumers' shopping habits. However, an increasing number of consumers are complaining about the fake goods sold online. As the regulator of commerce, the SAIC has a duty to supervise the market, whether it is online or offline. It may be a rash decision for Taobao to claim that the regulator "crossed the line".
However, the regulator should have thought carefully about making the survey results public without giving online shoppers an opportunity to comment about whether they accept the results. This kind of negative information could be a big blow to the e-commerce industry. According to the law, Taobao is entitled to apply for another test if they have grounds for doubting the accuracy of the test results.
Taobao also said it would like to cooperate with the SAIC to crack down on counterfeits. It's a common goal for the regulator and the platform to create a reliable market for the customers. For the consumers' sake, they should work together to work on a better way to supervise the online market in the legal framework.