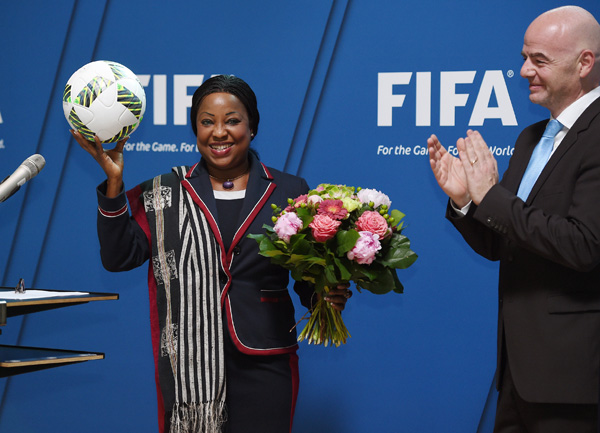 FIFA President Gianni Infantino welcomes FIFA Secretary General Fatma Samoura at the FIFA headquarters in Zurich, Switzerland May 30, 2016. [Photo/Agencies]
Zurich - FIFA's new general secretary Fatma Samoura has officially started work, becoming the first woman and non-European to hold the powerful post at the scandal-tainted organisation.
Samoura was named to the job in May, in a surprise move by FIFA president Gianni Infantino, who has sought to repair the reputation of world football's governing body since over taking over from the disgraced Sepp Blatter.
A 54-year-old Senegalese national, Samoura worked at the United Nations for more than two decades, serving primarily in Africa.
In an interview conducted by FIFA, Samoura said her top priority was filling senior positions including the chief financial officer and chief compliance officer.
Her two predecessors as general secretary, Jerome Valcke and Markus Kattner, were both sacked over corruption allegations.
Valcke is the target of a criminal investigation in Switzerland, along with Blatter.
Following the string of high-profile corruption scandals over the last year, which have seen many of the most powerful names in football management brought down, Samoura said boosting morale at FIFA was also crucial.
"My second priority is to try as much possible to focus on the staff, who have been going through extreme stress over the last 12 months because of the corruption scandals," she said in the FIFA interview after her official first day at her post on Monday.
She also stressed the implementation of major reform package at FIFA, which was designed to clean up the graft that plagued the Blatter era.
The general secretary was given added authority under those reforms to function more like a CEO.
Speaking broadly about her job, Samoura said: "I want to inject diversity, more equity, a better governance structure, a stronger monitoring and evaluation system and an obligation to inform and report on the good deeds of FIFA."