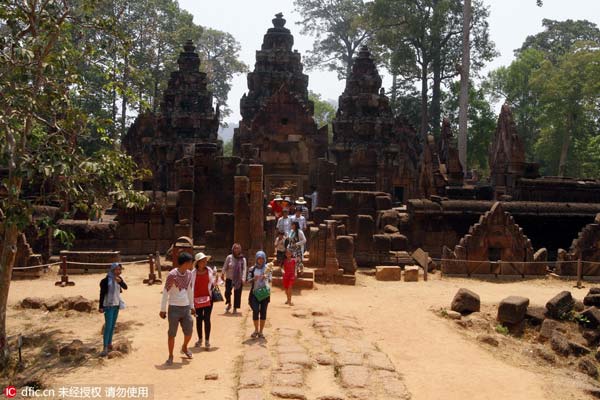 Tourists walk at Banteay Srey temple of Angkor complex, in Siem Reap province, about 320 kilometers (199 miles) north of Phnom Penh, Cambodia in this April 15, 2016 file photo.[Photo/IC]
PHNOM PENH -- Cambodia is expected to attract nearly 1 million Chinese tourists this year and up to 2 millions in 2020, tourism minister Thong Khon said on Saturday.
The Southeast Asian country received 700,000 Chinese tourists in 2015, up 24 percent year-on-year, and in the first four months of 2016, the kingdom welcomed 275,000 Chinese tourists, up 13.6 percent if compared to the same period last year.
"Based on the figures, Cambodia could attract nearly 1 million Chinese tourists in 2016,"the minister said during the opening ceremony of a Cambodia-China tourism forum here.
He said that earlier this year, the country has launched a white paper targeting 2 million Chinese tourists by 2020.
The white paper lists steps to be taken by tourism authorities to facilitate visits by Chinese tourists, such as providing Chinese signage and documents for visa processing, encouraging local use of the Chinese yuan currency, encouraging the use of Chinese language and ensuring that food and accommodation facilities are suited to Chinese tastes.
"China is rich and Chinese people have spent a lot of money for overseas travel,"Thong Khon said. "This is a good opportunity for us to attract more Chinese tourists."
Meanwhile, the minister said that the China-proposed "One Belt One Road"initiative would importantly contribute to developing economies and tourism for countries along the route.
China is the second largest source of tourists to Cambodia after Vietnam.
Cambodian tourism ministry undersecretary of state So Visothy attributed the steady growth of Chinese tourists to Cambodia to close relations between the two countries, Cambodia's attractive tourism sites and many direct flight connections.
Yu Ningning, vice president of China International Travel Service Group (CITS), said Cambodia has become one of the most popular Southeast Asia traveling destinations for Chinese travelers following Singapore, Malaysia and Thailand.
"CITS Group will help advertise and promote Cambodian tourism resources and products to Chinese tourists,"she said at the forum, in which some 300 representatives of tour and travel companies from both countries took part.
"The forum will help promote a continuous tourism development between China and Cambodia,"she added.
Speaking at the forum, Tan Qingsheng, political councilor of the Chinese Embassy in Cambodia, said that the"One Belt One Road"initiative would definitely contribute to the development of tourism industry in Cambodia.
"Tourism development necessarily needs physical infrastructure, including roads and bridges and energy,"he said, adding that China has fully supported Cambodia in these fields.
Besides, he said China has assisted Cambodia in renovating some temples in the complex of the Angkor Archeological Park in northwestern Siem Reap province.
Tan said that China would continue encouraging more tourists and investors to Cambodia for the benefits of the two countries and peoples.
Cambodia is famous for two cultural sites in the UNESCO's World Heritage List. One is the 12th century Angkor Archeological Park and the other is the 11th century Preah Vihear Temple.
The country also has many interesting eco-tourism sites, including a 450-km pristine coastline stretching across four provinces in the country's southwestern region.