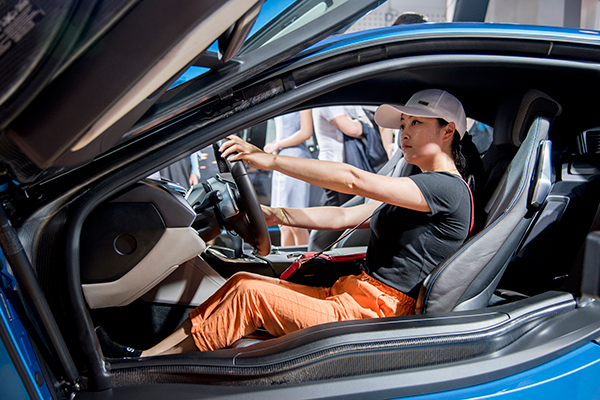 A woman checks out a BMW electric car during a recent NEV fair in Nanjing. Some makers of electric cars have cooperated with property developers to install charging stations at residential areas and office buildings. [Photo provided to China Daily]
Against the backdrop of the June 26-28 Summer Davos 2016 in Tianjin, China's evolving electric car segment shows it is determined to overcome challenges like poor infrastructure
For the past two years, Liu Yang, 30, a Beijing resident, has been driving an electric car. But, this year, she decided to buy a gasoline-powered sedan. Why? Simply because charging stations for electric cars are hard to find in and around the national capital.
"It is a nightmare to drive electric cars in big cities like Beijing, especially when you don't have charging facilities in your neighborhood," she said, adding there is always a long queue at the nearest charging station.
"Pumping gasolene at fuel stations is a pain, but at least it's only once a week or fortnight," Liu said.
Her complaints are quite common in China, as insufficient charging infrastructure is stopping automobile buyers from going electric, despite perks and privileges on offer.
To combat air pollution, China, the world's biggest maker and buyer of automobiles, is promoting low-emission vehicles to the average driver with a series of measures, including rebates on purchase of electric vehicles and exemption from the lottery system for driving licenses.
Last year, officials in Beijing also said they were considering cheaper or free parking for electric cars, but most drivers are still hesitant to go down the green path.
Ambitious target
Official data shows that more than 300,000 electric cars were sold in China last year, a fraction of the target the country set for itself. In 2012, China announced it is targeting to put 5 million electric cars on its roads by 2020.
The so-called range anxiety-it refers to worries that batteries won't carry as far as drivers want to travel-, a gaping lack of alternative fuel facilities at home, and affordability still trump environmental concerns for most of Chinese buyers, experts said.
Chinese officials are seeking to provide incentives to people to switch from ordinary cars to electric cars. But they also need to resolve the problem of insufficient chargers, said Robert Weisenmiller, chairman of the California Energy Commission. The state of California is home to over half of electric vehicles sold in the United States.
"There are a lot more high-rises and skyscrapers here (in China), so it makes charging much harder at home," he said. "People in the US are very concerned about having electric cars out of charge and not being able to recharge them."
Electric vehicle makers will typically install a charging pole at a driver's home, so they can power up cars overnight, but installation seems impossible in many communities across the country.
Ye Ke, owner of a Tesla Motors electric car in Beijing, said she does not find plugging in the car at night a problem as she has a fast charger installed in the garage at her house. But she faces a problem when she goes back to her apartment.
"There are no outlets for people living in a high-rise apartment or condos," she said. "You can pick up a fight with the property management companies, and they still wouldn't allow you to install charging poles."
The poles' high voltage-it is normally in the range of 380-500 volts-will pose safety concerns to the 220-volt circuit already installed in many neighborhoods, said Ye.
Some public charging points along the first Beijing-Shanghai expressway are not in use as different payment standards across cities have not yet been sorted out, according to media reports.
Flawed charging systems are also affecting profits of certain businesses. An EV car-rental company called Electric Vehicle has been losing money for more than two years.
Cao Gang, chief executive officer of the IEV.com, an online company that is into sales and renting of electric cars, said for many Chinese, convenience determines whether or not they choose electric cars.
"Pricing is a concern. As battery cost is falling, charging infrastructure seems to be the biggest obstacle," he said. "An entire network of charging points needs to be inked into the long-term planning of the city's traffic management."
There are signs the current situation in China will likely be remedied soon. Both State-owned and private companies are betting on the country's fledgling industry by making big investments in charging poles and charging stations.
Utilities
State Grid Corporation, China's biggest utility, has built more than 400 charging stations last year. By 2020, it targets to build 10,000 rapid charging stations and 120,000 charging posts across 202 cities and 36,000 km of expressways.
Some makers of electric cars have cooperated with property developers to install charging stations at residential areas and office buildings.
In Silicon Valley, where many high-tech companies including Google, Facebook and Apple are based, workplace electric car charging facilities are as common a perk as employer-subsidized healthcare.
Weisenmiller said workplace charging has not only become free in some places but many employers even offer free parking for electric cars.
"In California, the idea is to at least make sure that the cost is lower to buy and drive an electric vehicle than an ordinary automobile. You will get a Federal tax credit for the purchase at first, and the state will give you rebates in exchange for you driving alone in the carpool lane during rush hours, and then you get easier access to the fuel," he said.
Chen Qingquan, an electric vehicle expert with the Chinese Academy of Engineering, said the government has done much to prop up the industry, but it still has a long way to go compared to some well-developed markets.