McIlroy "unwilling to take the risk"
Joins growing list of golfers pulling out of Rio Games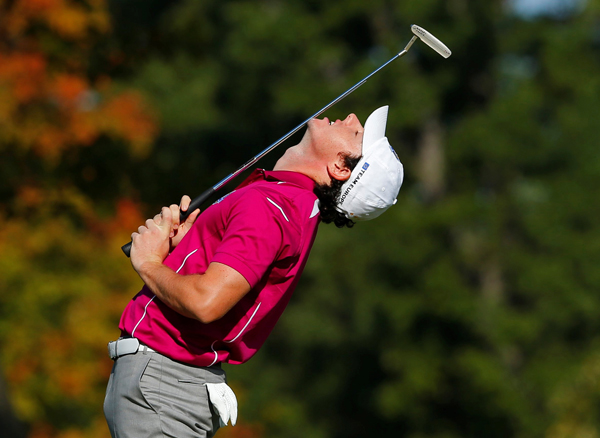 The file photo shows golfer Rory McIlroy of Northern Ireland bends backwards as he misses a birdie putt to halve the seventh hole at the 39th Ryder Cup golf matches in Medinah, Illinois September 29, 2012. [Photo/Agencies]
LONDON - Northern Ireland's four-times major winner Rory McIlroy has decided to pull out of the historic golf tournament at the Rio Olympic Games in August because of health fears over the Zika virus.
"After speaking with those closest to me, I've come to realise that my health and my family's health comes before anything else," the world number four said in a statement on Wednesday.
"Even though the risk of infection from the Zika virus is considered low, it is a risk nonetheless and a risk I am unwilling to take."
The International Golf Federation (IGF) said it was disappointed with McIlroy's decision.
The 27-year-old was due to represent Ireland, rather than Britain, at the Games and his withdrawal is the latest blow to golf, which is returning to the Olympics for the first time since 1904.
A number of big names, including Fiji's Vijay Singh and Charl Schwartzel of South Africa, have also withdrawn because of the virus.
Controversy over the Aug. 5-21 Games has grown as more becomes known about Zika. The mosquito-borne virus can cause crippling birth defects and, in adults, has been linked to the neurological disorder Guillain-Barre.
Last week, the World Health Organisation (WHO) said that the Games did not need to be moved or postponed because there is "a very low risk" that holding the event in Brazil will cause further spread of the virus.
An expert WHO panel on Zika concluded that staging the event during the Brazilian winter means the mosquito population will be smaller and intensified mosquito-control measures in place around venues "should further reduce the risk of transmission".