RIO DE JANEIRO - Justin Gatlin said he hoped to be a part of the fastest ever 100m sprint at this year's Olympic Games after winning an exhibition event in Rio de Janeiro on Sunday.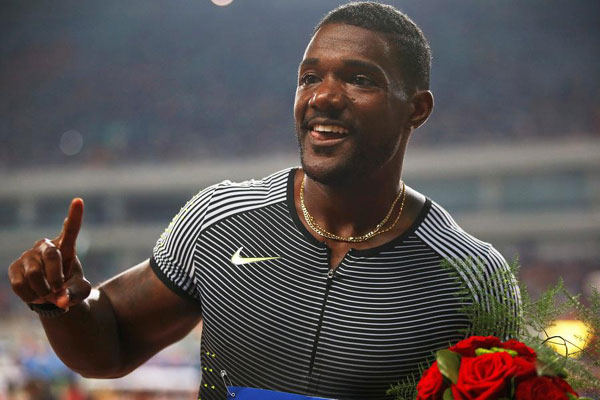 Justin Gatlin. [File photo] 
The 2004 Olympic champion cruised to victory in the Mano a Mano challenge, clocking 10.23 seconds on a temporary floating track at the Quinta da Boa Vista lake in Rio's west.
Trinidad and Tobago's Richard Thompson was second in 10.29 seconds and Brazil's Vitor Hugo dos Santos third in 10.42 seconds.
Despite heavy rain, a large crowd turned out to watch the US sprinter as he fine-tuned his preparations for a much-anticipated showdown with six-time Olympic gold medallist Usain Bolt at the Rio 2016 Games in August.
"We have the utmost respect for each other when it comes to competition and I just want to go out with a bang," Gatlin said after the race.
"I want it to be one of the most exciting races in track and field history. I want fans around the world to stand still for nine seconds and watch the fastest race ever."
"The track today was really good, despite the rain. The event was incredible. I was impressed by the big crowd given the weather. I've never run on water before."
Gatlin said he was not deterred by concerns about violence and pollution in Rio.
"The fact that me and other foreigners are here shows that Brazil is safe and a great place to come to," he said.
"You only get to live the Olympic dream once every four years and you never know if you're going to have another opportunity. That's why it's important to make the dream last as long as possible."
Despite having turned 34 in February, Gatlin is adamant that he is better now than when he won the 100m gold medal at the Athens 2004 Games.
"At the Olympics there are many distractions, like the glamor of the event and the excitement that surrounds it, especially in a place like Brazil. Experience helps you to stay focused."