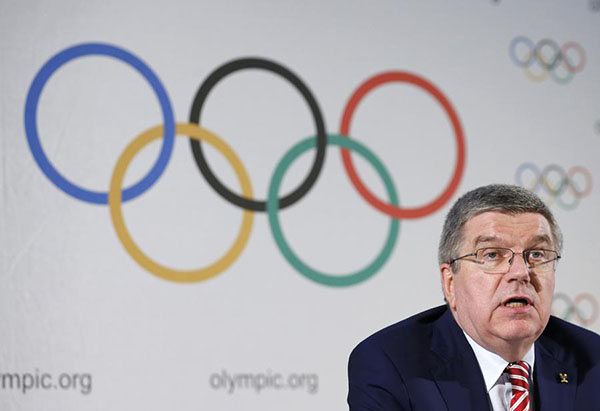 International Olympic Committee (IOC) President Thomas Bach attends a news conference in Lausanne, Switzerland, June 3, 2016. [Photo/Agencies]
RIO DE JANEIRO - Ten refugees will participate at this year's Olympic Games in Rio de Janeiro by representing a new flag for athletes that have fled conflict-riven countries and regions, the International Olympic Committee said on Friday.
The team includes five runners from South Sudan, two swimmers from Syria, two judokas from the Democratic Republic of Congo and a marathon runner from Ethiopia.
They will be a part of the first ever Refugee Olympic Team (ROT).
"They will form a team unlike any other that has competed in the Olympic Game before ... giving hope to people displaced by war and social unrest all over the world," the official Rio2016 website said.
Former marathon world record-holder Tegla Loroupe of Kenya will be the team's chef de mission, while Brazilian Isabela Mazao will be her deputy.
The ROT delegation will also include five coaches and five other officials.
IOC president Thomas Bach said the initiative would send a powerful message of hope to asylum seekers around the world.
"It is a signal to the international community that refugees are our fellow human beings and are an enrichment to society," he said.
"These refugee athletes will show the world that despite the unimaginable tragedies that they have faced, anyone can contribute to society through their talent, skills and strength of the human spirit."
The Refugee Olympic Team:
Rami Anis (male): Country of origin - Syria; host NOC - Belgium; sport - swimming
Yiech Pur Biel (male): Country of origin - South Sudan; host NOC - Kenya; sport - athletics, (800m)
James Nyang Chiengjiek (male): Country of origin - South Sudan; host NOC - Kenya; sport - athletics (400m)
Yonas Kinde (male): Country of origin - Ethiopia; host NOC - Luxembourg; sport - athletics (marathon)
Anjelina Nada Lohalith (female): Country of origin - South Sudan; host NOC - Kenya; sport - athletics (1500m)
Rose Nathike Lokonyen (female): Country of origin - South Sudan; host NOC - Kenya; sport - athletics (800m)
Paulo Amotun Lokoro (male): Country of origin - South Sudan; host NOC - Kenya; sport - athletics (1500m)
Yolande Bukasa Mabika (female): Country of origin - Democratic Republic of the Congo; host NOC - Brazil; sport - judo, (70kg)
Yusra Mardini (female): Country of origin - Syria; host NOC - Germany; sport - swimming
Popole Misenga (male): Country of origin - Democratic Republic of the Congo; host NOC - Brazil; sport - judo (-90kg)