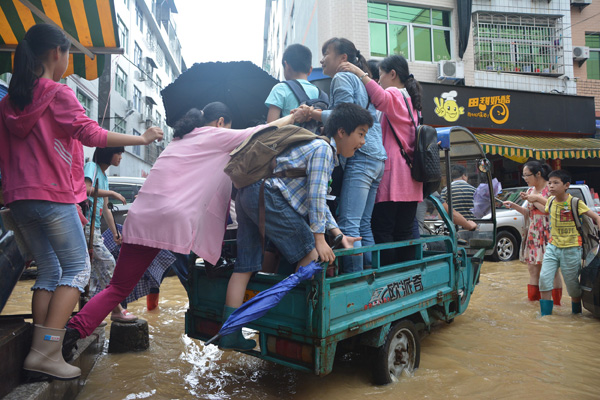 People climb onto a motorized tricycle to get around after heavy rain in Ningde, Fujian province, on June 2, 2016. [Photo/China News Service]
The lingering effects of El Nino will continue to cause larger rainfall and the possibility of severe flooding in China's coastal regions, said Zhou Bing, chief engineer of National Climate Center, under the China Meteorological Administration, on Friday.
The provinces of Hubei, Hunan and Jiangxi may have 50 to 80 percent more rainfall than the same period in recent years, the national meteorological authority said.
After the strong El Nino, China may see the coming of La Nina, El Nino's opposite phenomenon. Together with global warming, rising sea levels may exacerbate the impact of flooding and storm surges, Zhou said.
Both the El Nino and La Nina phenomena are related to abnormal ocean currents and temperatures in the central and eastern Pacific, leading to global changes of temperatures and rainfall.
"We need to make full preparation for the extreme weather conditions like flood, drought and heat, due to the lingering impact of El Nino and coming of La Nina," said Zhou.
In 1998, the southern regions experienced devastating flooding after El Nino that caused heavy casualties and economic losses, the authority said.
As of Friday, 573 counties in 14 provincial areas in South, Southwest and East China have been hit with floods and secondary disasters responsible for the deaths of 79 people this year.
Direct economic losses reached 13.8 billion yuan ($2.1 billion), 59 percent higher than the average since 2000, the State Flood Control and Drought Relief Headquarters said.