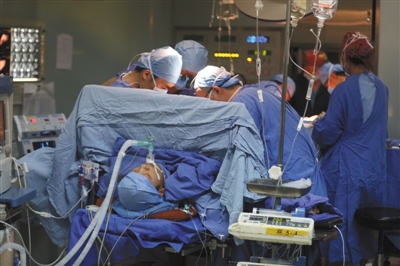 Li Shixian donates his liver to save his daughter's life on June 1, 2016. [Photo/Beijing News]
Father donates liver to 7-month-old daughter
Seven-month-old Li Siyun received a special gift on Children's Day – a part of her father's liver.
Li is the first child of Yan Hongmei and Li Shixian, a couple from Bijie, Southwest China's Guizhou province, who work in Anhui province.
Nearly one month after Li's birth, the girl's facial skin turned sullen and she suffered from a swollen belly and difficulty in her bowel movements. In a hospital in Shanghai, she was diagnosed with congenital biliary atresia.
Doctor suggested a conservative therapy because the girl was too small and surgery could only be carried out when she was heavier.
To cure their daughter, the couple was left heavily in debt, which almost pushed them to give up.
"Even if a surgery is successful, my kid needs to take (anti-rejection) medicine for the rest of her life. I am afraid we can't give her a good life," said the girl's mother.
With the help from a charity fund, the couple decided to save the baby's life through donating their liver. After a compatibility test, Li Shixian's liver was matched with his daughter's.
On Children's Day, the operation was conducted in the General Hospital of Armed Police in Beijing. One fourth of Li's liver was transplanted into the body of his daughter. After the surgery, the baby is in stable condition.
A doctor said, "Li Shixian's liver will be regenerated in two months and his life will not be affected."