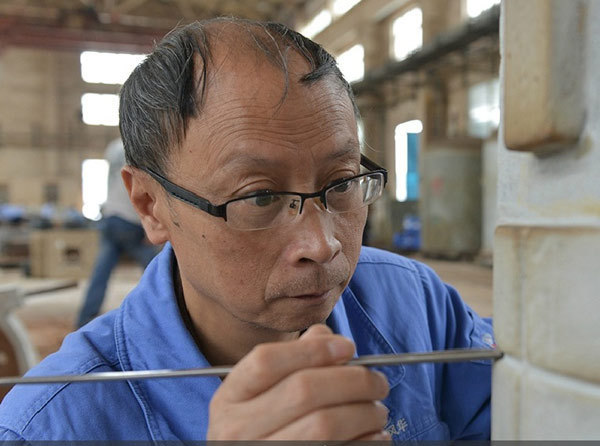 Mao Lasheng, a sand molder working for the country's largest missile manufacturer, has seen his products paraded in Tian'anmen Square four times. [Photo/Xinhua]
"If I could not overcome a technical problem in making a new product, it would keep me up for nights," said 59-year-old Mao Lasheng, a man who builds "coats" for China's home-made guided missiles.
Mao works at a factory under the China Aerospace Science and Industry Corp, the nation's largest missile manufacturer. For the past nearly four decades, Mao has been making the sand mold used in casting the outer part that wraps a guided missile.
The sand molding of the outer part of a missile is handled by human hands, instead of machines, due to its complicated structure and large size. Not even the slightest error can be made in the molding process. The surface of the sand mold should be perfectly smooth and clean, without any pore or crack. Otherwise, the product is discarded.
The job requires a worker to squat on the ground for more than 10 hours a day to keep a flexible position.
"The early days in the workshop were hard for me," recalled Mao Lasheng. "After squatting for only 20 minutes, my legs trembled and I felt sore in the thighs."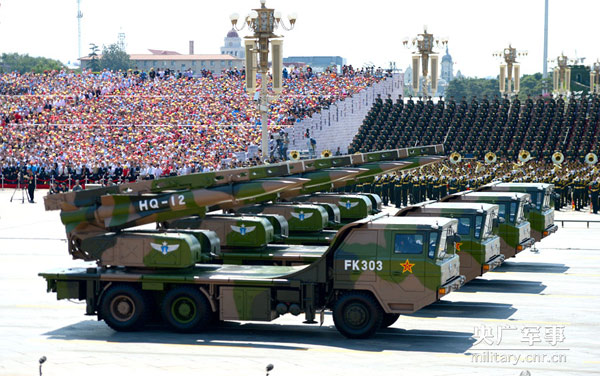 The HQ-12 air-defense missile was paraded in Tian'anmen Square, Beijing, in a Victory Day military parade held on Sept 3, 2016. [Photo/cnr.cn]
"To overcome tiredness, I squat no matter whether I was eating or reading. Through repeated practice, I gradually adapted myself to long hours of squatting," said Mao.
Besides making the sand molds, the job also involves a lot of moving and turning the sand molds. Mao's right shoe sole was rubbed thinner than other parts as a result of repeated use.
A junior middle school graduate, he could not even read a blueprint when he entered the factory. For that, he was often scolded by his mentor.
"My mentor's generation might have poor academic education, but they never gave up when it came to practical work," said Mao, recalling the work ethic of his mentor.
After a lot of practice and continuous learning, Mao himself rose from obscurity to become a skilled sand molder. He could tell the texture and hardness of sand simply by touching it.
A video shows the work of Mao Lasheng.