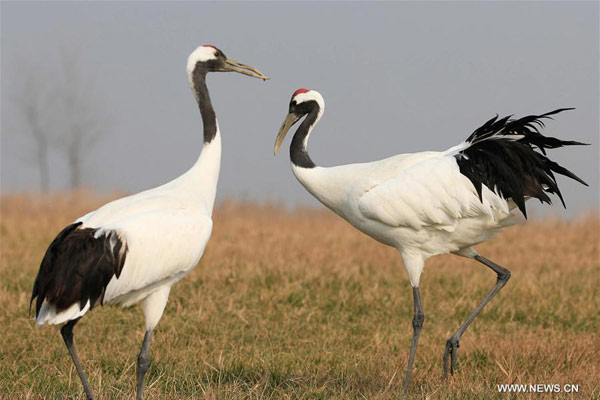 Red-crowned cranes at a national rare birds nature reserve in East China's Jiangsu province, Jan 9, 2016. Reserves now account for 14.8 percent of the country's territory. [Photo/Xinhua]
China has seen steady growth in nature reserves, which are now home to 89 percent of the wild animals and plants on its protected lists.
Reserves now account for 14.8 percent of the country's territory, said Chen Jining, minister of environmental protection, on Sunday - the International Day for Biological Diversity.
Since 1956, when the first nature reserves were created, China has established 2,740 reserves. They include forests, wetlands and geological parks and comprise 147 million hectares. The percentage of the nation's territory set aside as protected nature reserves is higher than the global average, Chen said.
These natural reserves not only have protected plants and animals but major natural relics, he said at a conference celebrating biological diversity.
Chen added that some rare and endangered species had recovered in recent years, including Yunnan snub-nosed golden monkey, a kind of monkey that is only found in China's southwest. Its numbers have grown by 40 percent in the past 20 years, from 1,400 to more than 2,000 in 2015, said Zhong Tai of the Baima Snow Mountain National Natural Reserve in Yunnan during an interview with China Central Television.
He said this year has seen a record number of babies born, and staff at the reserve have been providing them with extra food, including eggs and peanuts.
Chen, the minister, said that in addition to improving nature reserves, the ministry will strengthen punishments for people who conduct illegal activities in the reserves, such as banned construction.
China has set long-term targets for biodiversity conservation. It aims to have sound systems of laws and regulations in place by 2030 to protect biodiversity and the sustainable development of biological resources.
On Sunday, the ministry and the Chinese Academy of Sciences released the latest annual checklist, the Catalog of Life in China, which shows the country had 86,575 species in 2016, an increase over last year's 73,255.
zhengjinran@chinadaily.com.cn