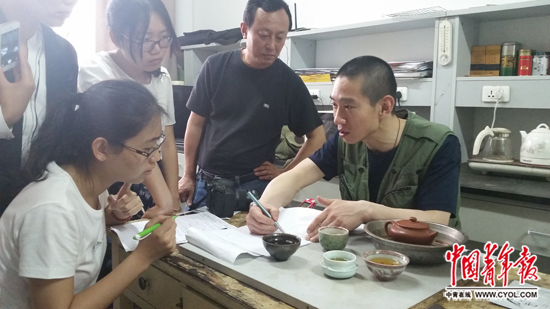 Han Chunyu (sitting) introduces his scientific finding to journalists from China Youth Daily. [Photo/Weibo]
 A Chinese scientist has discovered a genome-editing technique that has the potential to help bald men regain their hair.
"With this technique, middle-aged men with bald heads can probably regain their hair through genetic repair," Han Chunyu, an associate professor from Hebei University of Science and Technology in north China's Hebei province, told China Youth Daily.
"Although the science is currently futuristic," he added.
The technique that the 42-year-old has found has been named NgAgo, a DNA-guided genome editing, which is an unusual finding in comparison with the mainstream RNA-guided genome editing.
Besides the discussions about Han's finding at the Massachusetts Institute of Technology, experts said the finding's potential, which has received attention all across the world after being published in Nature Biotechnology on May 2, is expected to surpass the CRISPR-Cas9 technology, which is recognized as a favorite for the upcoming Nobel Prize.
CRISPR-Cas9 technology, the trendiest technology nowadays, helped its discoverers win the Breakthrough Prize in Life Science- a deluxe Nobel Prize-in 2015. And in 2015 the team won the Citation Laureates, a list of candidates considered likely to win the Nobel Prize in their respective fields.
Instead of CRISPR-Cas9 technology, Han's NgAgo finding reportedly has more advantages, and one of them is that it does not cause cancer unlike CRISPR-Cas9 technology that could cause the disease.
"Han's finding breaks the patent monopoly of foreign genome editing technique, and shows its own advantages," said Li Wei, a researcher at Institute of Zoology at Chinese Academy of Sciences.
The revolutionary finding was hard won by Han's five-member team at a laboratory in Hebei University of Science and Technology.
To cut costs he and his team had to use discarded beverage bottles in the laboratory and struggled under a debt of more than 300,000 yuan ($45,870).
"The most important quality of a scientist nowadays is the profitless craze for science," Han said about the finding that took him and his team years of hard work.
Genome editing technique has been selected as one of the 10 ground-breaking techniques in 2016 by MIT Technology Review.