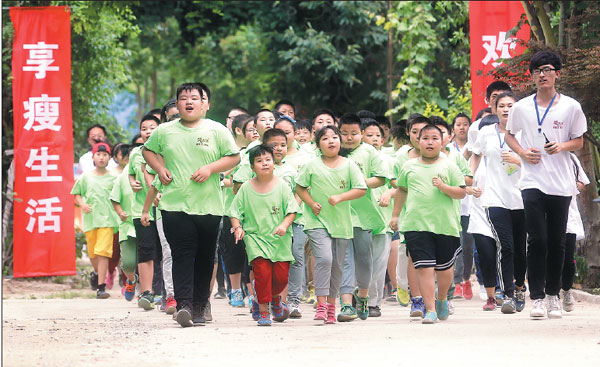 Children take physical exercise at a summer camp for overweight minors in Qingdao, Shandong province in July. He Yi / For China Daily
Rising standards of living and increasingly sedentary lifestyles have resulted in China becoming the fattest country in the world, and the problem is just beginning. Wang Xiaodong reports.
In November, when Bao Xin's weight soared to 120 kilograms, he decided to take steps. "At that time my life was seriously disturbed by being so overweight. I couldn't even hold my 1-year-old baby for more than five minutes because I would be soaked in sweat," said the 34-year-old IT employee in Beijing.
According to China's National Health and Family Planning Commission, adults with a body mass index between 24 and 27.9 are classified as "overweight", while those with a BMI of 28 or higher are classified as "obese".
Given his weight and height - 1.78 meters - Bao's BMI was 38, which put him firmly in the obese category.
A person's BMI is an important factor in the risk of contracting many illnesses, such as cardiovascular disease, diabetes and cancer.
Unlike his previous attempts which always ended in failure, Bao's efforts to lose weight paid dividends; he lost 30 kilograms in four months by adhering to a strict diet and exercise plan, which was monitored by medical staff.
Experts say that the number of obese people in China - already the largest in the world - is expected to continue to rise and pose an increased health risk, given rising living standards and the prevalence of modern sedentary lifestyles.
"An obesity crisis is likely to happen in China in the next 20 years, and it is already being felt in big cities such as Beijing and Shanghai," said Chen Wei, a nutritionist at the Peking Union Medical College Hospital who is also deputy director of the clinical nutrition department at the Chinese Nutrition Society.
"The rising level of obesity is closely linked with the rise in a range of chronic diseases in China in recent years," he said.
A growing problem
In 1975, 0.7 million Chinese men were obese, which meant the country was ranked 13th in the world. In addition, there were 1.7 million obese women, making China the global No 10. The combined figure accounted for less than 2.5 percent of global obesity.
That picture has changed dramatically. In 2014, China overtook the United States to become the world's fattest nation for both men and women. The country was home to 43.2 million obese men - accounting for 16.3 percent of the global total - and 46.4 million obese women, or 12.4 percent of obese females across the world, according to research published in April by The Lancet, a medical journal.
The research, based on surveys of more than 19 million people in 186 countries, also showed that China was moving higher in the global ranks of "serious" obesity. In 1975, China's men occupied 60th place, while the women were in 41st place, but by 2014, both men and women were second in the global rankings.
In the past decade, the number of overweight or obese people in China has risen faster than in a large number of developed countries, according to the National Health and Family Planning Commission.
In 2012, nearly 12 percent of Chinese adults were obese, compared with 7.1 percent in 2002. Meanwhile, the figure for children and adolescents - ages 6 to 17 - was 6.4 percent, compared with 2.1 percent in 2002, the report said.
Yang Qinbing, director of the nutrition department at Beijing Tsinghua Changgung Hospital, and a member of the Chinese Medical Doctors Association, said the country faces an obesity time bomb: "The prevalence of obesity has become a serious health problem in China, and it is one of the most dangerous health risks for the country in the near future."