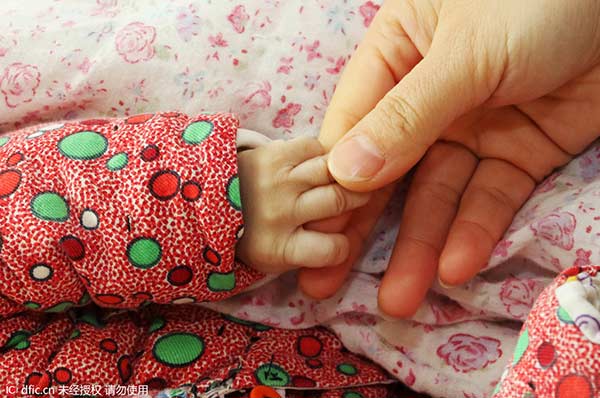 An orphan's hand is held by an adult in Ruzhou, Henan province on Dec 20, 2015. [Photo/IC] 
CHONGQING - Li Chenghong, 52, has four children to raise, but none of them are members of her family.
Recruited by a children's home in Chongqing, Li has spent six years raising four children, aged between 3 and 14 years old.
Her "sons and daughters" all have some disability. Before being put in the care of Li and her husband, all lived in the orphanage.
Six years ago, Li saw an ad on TV and applied to be a foster parent. Now she and her husband Zhou Huagang, 53, live in a four-bedroom apartment at the home and receive 2,000 yuan every month for caring for the children. The couple pay most of the children's expenses out of their own pockets.
"When I first came here, I had so many difficulties. I lost 10 kilograms of weight in the first month," Li said. Her own daughter is a nurse in Changsha, capital of Hunan province, but Li herself had no experience with disabled children.
China's national day for disabled people on May 15 is an opportunity for child-care institutions to show how these quasi-families have succeeded where conventional care often fails.
Chongqing was among the first to make use of foster parents and in the last nine years, more than 20 couples have worked with about 100 children.
To become a foster parent, you must be older than 35 years old, with grown-up birth children who no longer need support. The "mother" must be a full-time housewife and if the father has a job, he must return home every day. If he needs it, the father will be given a job in the orphanage.
"We want the children to feel closeness, continual care and the integrity of a family," said Li Pengmei, director of the home.
Families are carefully watched by the institutions because they live on site, said Li Pengmei.
Luo Jiaojiang, director of the social development institute at Wuhan University, described how finding full time parents could create a loving and stable family unit for the children. "Surrounded by caring adults, children have a better chance of emotionally healthy lives," she said.
China has more than half a million orphans and disabled children institutionalized for one reason or another in the care of almost 900 approved organizations. Of the 500 children living at the Chongqing home where Li Chenghong works, around 90 percent have severe disabilities. Those who live with foster parents are generally the least severe cases.
"Caring for a child with severe disability requires more manpower and more money," said Zhou Huagang, the foster father.
"We are always looking for more couples willing to help us," said Li Pengmei.
"These foster parents really deserve so much credit. The salary we pay them is quite thin considering the work involved. They come to help mainly out of a kind heart," she added.