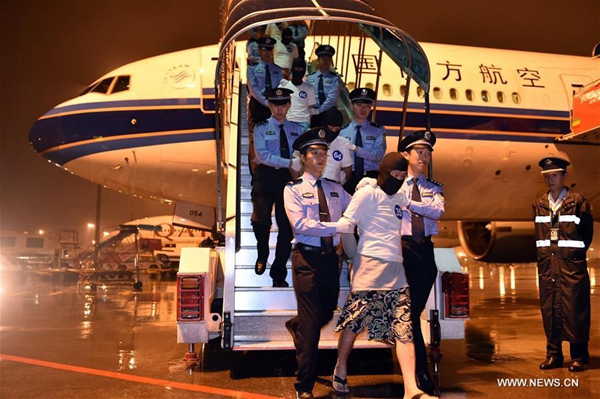 Chinese telecom fraud suspects are escorted off an aircraft by the police at Guangzhou Baiyun International Airport in Guangzhou, capital of South China's Guangdong province, April 30, 2016. A total of 97 Chinese telecom fraud suspects, including 32 Taiwanese, were sent back from Malaysia under the escort of Chinese police on Saturday. The suspects are involved in more than 100 major transnational telecom frauds related to over 20 provincial areas in Chinese mainland. [Photo/Xinhua]
ZHUHAI - A total of 32 Taiwan fraudsters currently detained on the Chinese mainland have confessed to their crimes, said the Ministry of Public Security Saturday.
The 65 mainland suspects and 32 Taiwanese suspects, deported together from Malaysia to the mainland on April 30, belonged to five criminal syndicates, said a ministry statement issued after mainland police and a delegation of judicial officials from Taiwan wrapped up a three-day meeting in the southern city of Zhuhai.
They were part of the 117 suspects detained in Malaysia for more than 100 telecom fraud cases. The other 20 Taiwan suspects had been sent back to Taiwan earlier.
The suspects are held at two detention centers in Zhuhai.
The police have treated the suspects equally and ensured their legal rights according to law, the statement said.
The Taiwan suspects were informed of their rights before the first interrogation, including the right to hire a lawyer, the statement said.
According to an earlier statement, most of the Taiwan suspects are in good health, except a few having skin infection and two showing symptoms of unstable blood pressure, which, however, is under control after proper treatment. Only one who has suffered hernia for eight years has been hospitalized but in stable conditions.
At Saturday's meeting, the mainland police agreed to arrange their families to visit as soon as possible.
TAIWAN'S COOPERATION MUCH NEEDED
Mainland police have obtained evidence and key information about four of the syndicates but the investigation into the fifth syndicate encountered difficulties because the majority of its members had been sent back to Taiwan, the police said.
The investigation has been jeopardized by several masterminds and senior members of these syndicates, believed to be Taiwan residents, who are at large and have destroyed evidence and moved funds, it said.
The 20 Taiwan suspects returned to the island were temporarily released by local police due to lack of evidence on April 16 but five days later 18 of them were detained and two were banned from traveling.
"The mainland will try to provide evidence to the Taiwan side so that they can crack the case as quickly as possible," said Chen Shiqu, a senior police officer with the ministry.
"The money of mainland victims is now in Taiwan. We hope the Taiwan side can actively pursue the scammed money so that we can return the money to victims," he said.
Chen Wen-chi, who leads the Taiwan delegation, confirmed that prosecutors in Taichung have been busy investigating this case and the evidence from the mainland will be greatly helpful.
"We will step up the effort to reach the bottom of this case and take them to the court," she said.
A few victims were in Zhuhai to petition the Taiwan delegation for better cooperation.
A 72-year-old lady surnamed Guo, from Beijing, said she lost her money for the treatment of cancer due to the scam. She had been cheated about 2 million yuan ($307,000) in August and September 2015.
"I just hope those crooks will be punished so no more people will be cheated," she said.
A 38-year-old lady surnamed Luo from Hunan Province told Xinhua that she was cheated about 120,000 yuan in March, a significant loss provided that she just earns about 2,000 yuan a month.
"I hope Taiwan authorities can understand the pain I suffer and work with the mainland police to somehow recover our loss," Luo said.
Chen Wen-chi promised that Taiwan authorities will actively track the money and retrieve the funds.