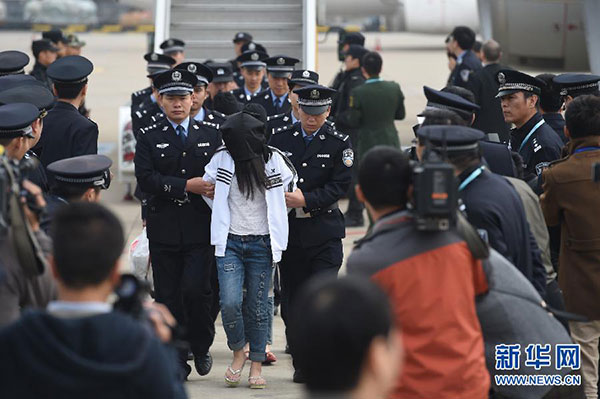 Suspects involved in telecom swindle cases are escorted off an aircraft by the police at Hangzhou Xiaoshan International Airport in Hangzhou, capital of East China's Zhejiang province, Nov 10, 2015. [Photo/Xinhua]
BEIJING - Work groups from the Chinese mainland and Taiwan will discuss cross-Straits cooperation in fighting telecommunications fraud from May 12 to 14 in Zhuhai in South China's Guangdong province, said a mainland spokesperson on Wednesday.
The discussions will be held under the framework of the cross-Straits agreement on joint crime crackdown and mutual judicial assistance signed in 2009, said Ma Xiaoguang with the State Council Taiwan Affairs Office at a press conference.
Based on a previous round of discussions on April 21, the mainland will continue to enhance cross-Straits cooperation to fight crime, better protect victims' interests and achieve judicial and social justice, Ma said.
A Taiwan delegation arrived in Beijing on April 21 to discuss telecom fraud with mainland police. They also visited a Beijing detention center that was holding 45 alleged telecom fraud criminals from Taiwan who were deported from Kenya last month.
The spokesperson said the mainland had received applications to visit from the families of the detainees, and would receive them from May 15 in accordance with relevant regulations.