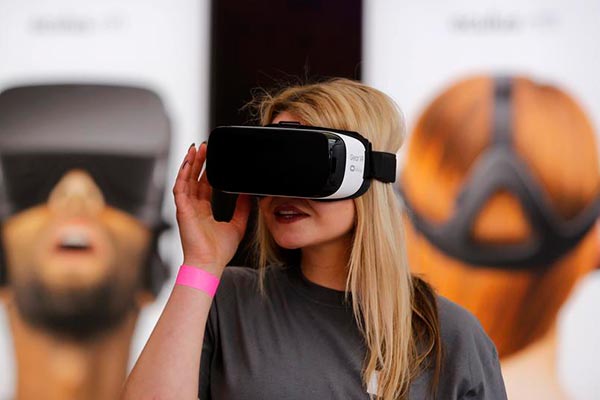 A Facebook staff uses a Gear VR virtual reality headset by Oculus and Samsung Electronics at the new Facebook Innovation Hub during a preview media tour in Berlin, Germany, February 24, 2016.[Photo/Agencies]
The China Securities Regulatory Commission (CSRC) has banned listed companies from cross-investing in or acquiring companies in four industries: internet finance, gaming, movie and television, and virtual reality with money raised via additional stock issuing or other ways, the online financial magazine Caixin reported on Wednesday citing a source familiar with the matter.
The CSRC hopes that by taking this measure money in the capital market will flow into the real economy industries as much as possible. For example, it's acceptable for a cement enterprise to invest in photovoltaic industry, however, such a company would not be allowed to invest in gaming, the source said.
"A listed company is creating a bubble in the disguise of mergers and acquisitions. If a company is not performing well in its core business, it starts investing in some unrelated virtual industries and this will eventually harm the interests of investors," the source added.
In March, the CSRC tightened the cross-industry transactions and did some "special inspections", however, the commission did not place a ban on mergers and restructuring of those industries, a person at an investment bank also told the newspaper.
There are bubbles in the four above-mentioned industries, and it's difficult to assess their valuations, the source added.