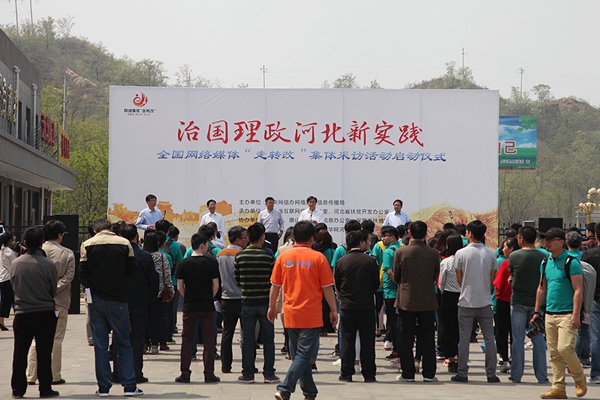 Media tour kicks off in Fuping county in Hebei on Monday. [Photo by li Jia provided to chinadaily.com.cn]
Journalists from 46 media outlets across the country visited Hebei on Monday to get a first-hand account of the province's efforts to reduce poverty while developing its economy in an eco-friendly way.
During the 12th Five-Year Plan (2011-15), Hebei province lifted five million people out of poverty, with famers' net per capita income increasing 50 percent, said Zhang Yanping, deputy head of Hebei publicity bureau, at a launch ceremony of the tour in Fuping county, Hebei province.
The year 2016 is the beginning of the 13th Five-Year Plan and a decisive year to complete the building of a moderately prosperous society in all aspects by 2020 for the whole country.
If we cannot build a moderately prosperous society in rural areas, especially in poverty-stricken regions, we cannot say we have established an all-around moderately prosperous society, said President Xi Jinping at the end of 2012 when he visited Fuping county.
Three years later Hebei is once again in the spotlight.
Hebei is highlighting its new ideas, practices and achievements in dealing with poverty and developing a better economy, said Liu Chong, Deputy head of information bureau, Office of the Central Leading Group for Cyberspace Affairs.
Journalists will visit poverty-stricken counties of Fuping, Yixian and Laishui in Baoding, and International Horticultural Exposition and Earthquake Ruins Memorial Park in Tangshan during the five-day tour.
The move is the part of the year-long series of ground level tours around the country for journalists.