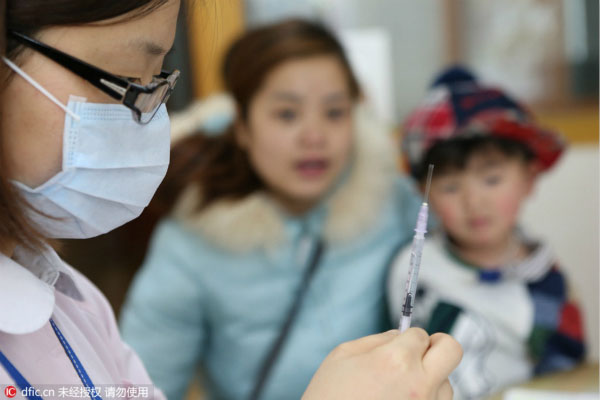 A Chinese medical worker prepares to vaccinate a young kid at a hospital in Shanghai, China, March 20, 2016. [Photo/IC]
BEIJING -- The authorities are trying to restore public confidence in vaccines after a nationwide scandal struck fear into the hearts of parents.
China banned drug wholesalers from selling vaccines
, according to a decision publicized on Monday, the nation's Vaccination Day.
The decision requires B-class (non-compulsory) vaccines to be distributed in the same way as A-class, which are covered by the national compulsory immunization program.
It also requires disease control departments, hospitals and clinics to keep records of purchases and received inventory.
China will establish a system to track vaccines, according to the decision. Enterprises and user agencies must record circulation and use, so all vaccines can be tracked across their life cycle.
The public were shocked and appalled in March when the news that improperly stored vaccines worth millions of dollars were sold to patients nationwide. The State Council has announced that 357 officials implicated in cases concerning the illegal sale of improperly stored vaccines would be penalized.
In the eastern city of Ningbo, the number of vaccinated children decreased by about one fourth from March 18 to 31, according to the local disease prevention and control center.
"Of course I am concerned after the scandal, but I know the government has tightened control," said Mr. Sun in Zhecheng People's Hospital in Zhecheng City, Central China's Henan province. "Besides, this is a big hospital, which I can trust."
Meanwhile, local authorities are trying the quell public unease.
At Zhecheng hospital, health workers were disseminating vaccine information to parents on Monday.
"Some children will have side effects after being vaccinated, but it doesn't mean the vaccines are problematic," said Zhao Xiaolei, a head nurse at the hospital.
In Northeast China's Jilin province, authorities are pioneering a digital system that makes vaccines storage transparent to the public.
"Here the fridge temperatures can be seen by the public, and an alarm will be triggered if the temperature is deemed 'abnormal,'" said a medical staff at a health center in the provincial capital Changchun. "Each vaccine will be labeled with a bar code, and its storing and transportation process can be supervised via the code."
In Hefei, capital of Eastern Anhui province, authorities have developed a smart phone application that shares vaccine information.
"Each batch of vaccines will be recorded in the app for public check," said an employee at a community health center in Hefei.
Meanwhile, health authorities have urged the public to continue to have their children vaccinated.
Immunization is the most economic, effective and safest way of preventing, controlling and eradicating communicable diseases, said Mao Qun'an, spokesperson for the National Health and Family Planning Commission.
"The national immunization program has been very successful to the control of preventable diseases," Mao said.