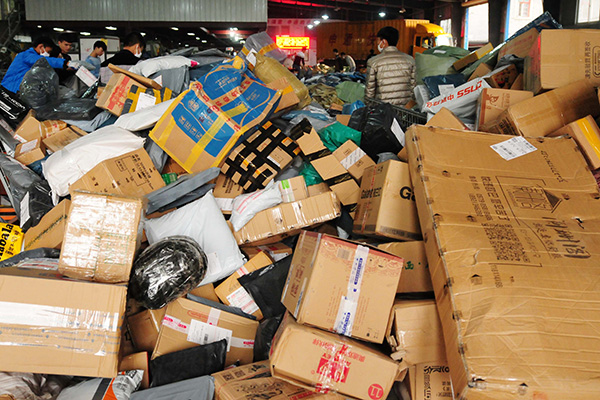 Workers sort packages at an express delivery firm in Jiujiang, Jiangxi province. E-shopping transactions reached 3.96 trillion yuan in 2015 and the volume is likely to surpass 6 trillion yuan this year. [Photo/China Daily]
"People mountain, people sea" is how Chinese describe a place filled with people. But as the nation of more than 1.3 billion people increasingly shops online, casting off a huge amount of plastic bags and paper boxes, "garbage mountain, garbage sea" comes to mind.
With the country's e-commerce increasing rapidly, its online retail and related delivery services are producing a virtual mountain of waste that adds to the country's environmental woes.

China doesn't have a national system to regulate the packaging of goods purchased online-from freshly cooked soup and congee to frozen seafood.
Last year, with a total of 20.67 billion delivery parcels, the industry left behind 11 billion plastic bags, 9.9 billion cardboard boxes and 17 billion meters of adhesive tape, said Zhu Lei, deputy head of the Qingdao Research Center of the Beijing Institute of Graphic Communication.
Zhu and his team cooperated with the State Post Bureau in 2014 to get a thorough picture of the garbage situation from courier services, and they continued research last year to estimate the amount of trash generated by the industry.
"Most of the plastic bags were not biodegradable and were discarded with other household trash to be piled up, buried or burned, which posed a heavy burden of environmental pollution," Zhu said.
In 2014, the booming service industry generated about 14 billion parcels, the bureau's data showed. If each item of packing material weighed about 0.2 kilogram, these parcels would generate 2.8 million metric tons and cover the equivalent of 200,000 soccer fields, some experts estimated.
Chen Jian, who has worked in recycling services for 20 years in Xi'an, Shaanxi province, voiced similar concerns over the growing pollution from the booming courier services.
Every year, at least 15,000 metric tons of paper boxes are used in Xi'an, of which only 60 percent are recycled, he told a local newspaper in the city of more than 8 million people. "But the 300 tons of plastic bags were buried and burned directly in dumping grounds."
The burning or dumping of such non-biodegradable plastic material could cause pollution to the surroundings, said Wei Maoquan, head of the Resource Recycling Association of Linyi, Shandong province.
Wei said that plastic tape, for example, contains the chemical polyvinyl chloride, which could take at least 100 years to decompose in the soil.
China will encounter larger pollution pressure from the growing courier services sector. Authorities estimate that by 2020, annual parcels to be handled will reach 50 billion.
However, few delivery service providers have begun to use recyclable plastic and paper packaging materials.
Xiang Feng, CEO of Shanghai YTO Express Co, conceded that most plastic materials now used are not biodegradable.
The company began pilot projects in 2014 in some areas to recycle paper and plastic materials, "but we have many difficulties in expanding the recycling system", Xiang said.
Another major domestic online shopping service provider, yhd.com, started to collect used paper boxes from consumers, if they were in good shape, in 2014, said Liu Hongbin, the company's vice-president.
However, plastic wrapping and stuffing materials are not now on recycling services' list.
"It would increase the cost of the delivering service providers if they collect the used materials, and the recycled ones would not make profits for them," said Zhu Lei, the Qingdao research center expert.
Nonetheless, he said, it is necessary to improve the recycling system, reduce excessive packaging and promote environmentally friendly packaging materials.
"It's time to facilitate the garbage classification to make sure the dumped plastic packing bags can be dealt with properly," he added.
Xie Chuanjiao in Qingdao, Shandong province, contributed to this story.
Contact the writers at zhengjinran@chinadaily.com.cn