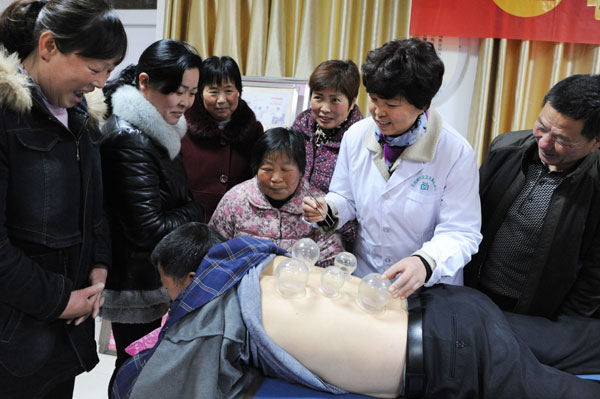 A doctor in Bozhou, Anhui province, demonstrates cupping therapy, a traditional Chinese medical practice that is believed to invigorate the circulation of blood and boost health. [Photo by Zhang Yanlin/China Daily]
Merely 9 percent of Chinese aged 15 to 59 have basic ideas about how to preserve health through traditional Chinese medicine, a nationwide survey found, with those younger and better educated having a better understanding of the time-honored science.
Conducted by the State TCM Administration, the survey sampled nearly 20,000 people and was the first of its kind in the country.
"The findings will help design a future TCM work plan in promoting public health," Zha Dezhong, spokesman for the administration, said on Thursday.
The percentage of people knowledgeable about TCM is expected to grow to 12 percent in five years, according to Zha.
People in urban areas generally have a better understanding of TCM ideas and concepts than rural residents, the survey found.
Questions on the survey included TCM concepts, practices, methods and lifestyles for health preservation.
More people are aware of TCM-related diets and lifestyles that help people stay healthy and fit, the survey found.
Xu Wenbing, a specialist at the Houpu Training Center for TCM, said an increasing number of young people have begun to show interest in traditional Chinese medicine, highlighting natural remedies and individuality.
He said the training center is only open to applicants with at least a university education, and so far it has trained thousands of students.
"Many just learn out of interest or to keep fit and healthy," he said.
There is a gap between interest and understanding, though, according to associate professor Tan Wei of the Beijing University of Chinese Medicine.
More than 84 percent of those polled picked up TCM-related health information from various outlets including TCM hospitals, commercials and TV programs.
However, "the number of those who understand the essential concepts of TCM remained very limited," she said.
Many Chinese are not able to read the ancient TCM classics to understand their essence, but such knowledge is important to practice TCM correctly, Zha said.
To help promote authentic TCM knowledge, the administration is scheduled to integrate TCM contents into the curricula of primary and middle schools, he said.