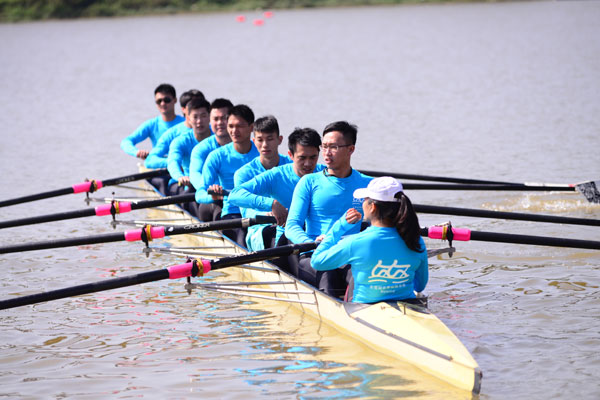 Rowers compete during a charity rowing event in Dongguan, Guangdong province, on March 26, 2016. [Photo provided to chinadaily.com.cn] 
The Asian Rowing Federation will organize rowing events in various Chinese cities each quarter in the years ahead, aiming to promote the sport in China, according to the organization.
Wang Shi, ARF chairman, said organizing more rowing events in China would help expand the sports industry, which has already become an emerging power to drive the country's economic development.
"Promoting rowing events at the grassroots level in China will be prioritized in the next five years," said Wang, who is also chairman of Vanke Co Ltd, one of China's leading property giants.
Wang's remarks came after a charity rowing competition was held in Dongguan, Guangdong province, on Saturday. The event attracted nearly 40 teams.
Vanke's division company, Deep Dive Training Co Ltd, a premium training base for Chinese business people, will develop rowing as its core business in the future, Wang said.