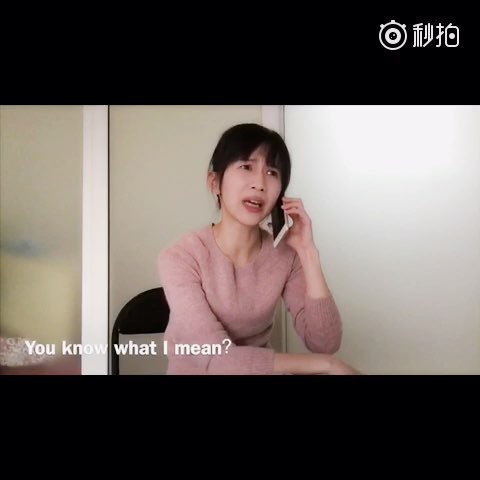 Screen shot of a video posted by Internet celebrity Papi Jiang's Weibo account. [Photo/Weibo.com]
The news of an Internet star securing a joint investment of 12 million yuan ($1.84 million) over the weekend has triggered heated discussion online, and made people take a new look at cyberstar economy.
Papi Jiang, a female student pursuing master's degree in directing at the Central Academy of Drama, started uploading original and funny short videos on websites last October and shot to fame overnight.
In the videos, Papi Jiang talks about everyday life, show business, hot issues and relationships in a sarcastic way, a style that has struck a chord with netizens. She is the director, scriptwriter, actress, cameraman and editor. Sometimes she acts several roles. She ends the videos by saying "I'm Papi Jiang, a woman who combines beauty and talent."
She released a video titled "Are you ready for the upcoming Spring Festival" days before the holiday began. The annual family reunion sometimes is unbearable for some people because they face relatives who ask personal questions. Papi Jiang mocked such relatives with dramatic acting. The video became a hit on WeChat.
In less than six months, Papi Jiang has accumulated more than 7.7 million fans at her Weibo account, a Twitter-like micro blogging site. Her 40-plus videos have been watched more than 100 million times on various video websites. Industry insiders estimate that Papi Jiang's value may reach RMB300 million.
Luo Zhenyu, founder and host of the online social-issues talk show, Luoji Siwei (Logical Thinking), also one of the four investors, wrote on his Weibo account: "I spent more than three years to attract six million followers, while Papi Jiang got 10 million fans in just four months. Our team has about 100 members, earning more than RMB200 million with an estimated value of RMB1.3 billion. But you, by yourself, is valued at RMB300 million and you haven't sold anything yet. How do you think Uncle Luo can sleep well?"
According to The Online Celebrity List 2015 released by China Internet Weekly in early March, Papi Jiang ranks only second to Wang Sicong, son of Wang Jianlin, China's richest man and chairman of mainland property and entertainment conglomerate Wanda Group.
Papi Jiang has been called the first online celebrity in 2016 by netizens, but she doesn't identify with that label.
Speaking of online celebrity, people think of mold carved beauties - big eyes, small mouth and sharp chin. Their daily life is about shopping, taking selfies and posting them online. They are models, photographers or fashion designers. And the most important thing is that they have online stores on Taobao.com, China's largest customer-to-customer online shopping platform.
The online celebrities are building up a new economic driving force. They are turning the love of their fans into money.
Cyberstar Cherie, who has been linked to Wang Sicong, has 1.44 million fans on her Weibo account. She posts selfies with new clothes and sells them in her Taobao online store. According to a report by Guotai Junan Securities Co, a major investment bank, Cherie is estimated to earn RMB150 million a year.
"We have been talking about Internet economy and fans economy, but a new group of people are surfacing on Taobao platform. They are what we called the online celebrity. They are a reflection of new economic force," said Alibaba CEO Zhang Yong at the World Internet Conference last year.
Compared with traditional online celebrities who cash in on their beauty, Papi Jiang earns her success by talent, humor and sensitivity of hot issues.
On Monday morning, investor Luoji Siwei announced detailed cooperation with Papi Jiang. They are going to do the first ad auction in China's new media circle.