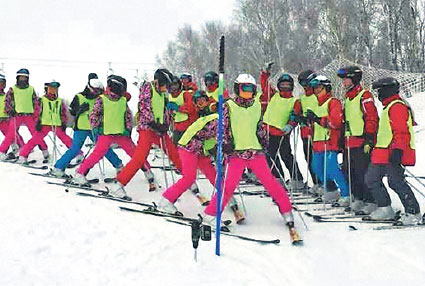 Students at Zhangjiakou Youth Winter Olympic Games School take a skiing exam at a resort on Monday. Guo Jiyong / for China Daily
A specialized course combining ski instruction with regular school unfolded in Hebei province over the winter. Its aim: to train China's winter sports stars of the future.
The program - the Zhangjiakou Youth Winter Olympic Games School - is managed by the city's Xuanhua No 2 Middle School. It offered 48 students free intensive training in alpine skiing and snowboarding combined with regular compulsory school subjects.
Sun Yongqing, the principal, said winter sports training was provided at Zhangjiakou's Changchengling Ski Resort during the daytime, while general knowledge lessons were given at night.
Coming from as far afield as the Inner Mongolia autonomous region, the students, male and female, began their training in November when the ski season began.
"At the end of March, they can return home to enjoy a holiday and then come back to school for general knowledge classes until next ski season," said Sun.
Most now don't want to leave for home as they have been having too much fun, according to Guo Jiyong, a full-time student supervisor.
But before they had adjusted to the skiing and academic schedules, some students became homesick and struggled to adapt, Guo said.
Li Wenqing, 14, was concerned that the training might get in the way of his studies.
"At first, I couldn't get the skiing skills, and I worried that training might give me less time for learning," he said, "It was all messy and tangled. I couldn't handle it."
Four elite skiers - each with competition level experience - were employed as instructors at the school.
Liu Yang, who has four years' experience as an instructor, said children of Li's age were liable to be confused when faced with new challenges.
"All of them were learning from scratch and the nature of the training sessions caused some upset," Liu said, "But they are also curious about new things and can learn the skills quickly."
With the instructors' help, Li started to make progress and eventually moved up to the advanced slopes.
According to Sun, the course is the first of its kind in China, so some teething problems were to be expected.
"In the past, there were sports schools or short-time training courses that exclusively taught skills, but integrating it into China's nine years of compulsory education is a first," he said.
The course will be expanded next ski season to recruit more than 200 students nationwide, Sun said.
Zhangjiakou will play host to a number of events at the 2022 Winter Olympics, alongside Beijing's downtown and Yanqing district.
Liu Xiaoma, director of the Winter Sports Department at the Hebei Administration of Sport, said it was important to nurture winter sports athletes from an early age.
"It's quick and easy for youngsters to learn new things, so their interest must be nurtured before they grow up," he said, adding that Hebei was trying to integrate winter sports into primary school education.
Hebei aims to develop 66,000 athletes and related personnel by 2022 to provide athletic talent and staff for the Winter Games, Liu said.