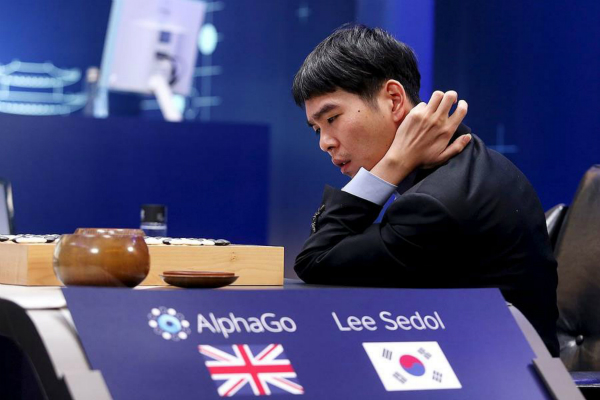 The world's top Go player Lee Sedol reviews the match after the fourth match of the Google DeepMind Challenge Match against Google's artificial intelligence program AlphaGo in Seoul, South Korea, in this handout picture provided by Google and released by News1 on March 13, 2016. [Photo/Agencies]
BEIJING -- Glib Chinese web users have raised a challenge to the AI program that recently dethroned one of the top human Go players, demanding tongue-in-cheek that the AlphaGo program learn the nation's real pastime - mahjong.
China's reaction toward the historic duel between human and artificial intelligence has been mixed. At first, there were questions on why the human player did not come from China, where the game was invented more than 2,500 years ago.
Then, as AlphaGo marked three victories in the five-game match, defiant web users began calling for a challenge in an arena average Chinese are more comfortable in.
"Can AI beat mahjong masters?" was posted several times in the comment section of stories about the AlphaGo-Lee Sedol match on Chinese microblog Sina Weibo, where they attracted a deluge of comments defending humanity' glory in mahjong.
Mahjong, China's answer to poker, is usually played by four people. Each turn, players draw tiles from a 144-tile pool, discard or intercept others' to form sets of tiles that can win. Scientists say compared with Go, mahjong has far fewer permutations for AI calculation, but involves a degree of chance and other factors in favor of humans.
"Sometimes with a glimpse of the other player's facial expression, I know how he or she is going to play. Can AI do that?" asked one blogger.
"Unlike Go, mahjong is not a quiet game that focuses on calculation. It involves a lot of interactions and teamwork between players," another blogger commented.
Some netizens described mahjong as a competition on both IQ and EQ. Computers can undoubtedly blow humans out of water in math, but how about their ability of communication and interpreting emotions?