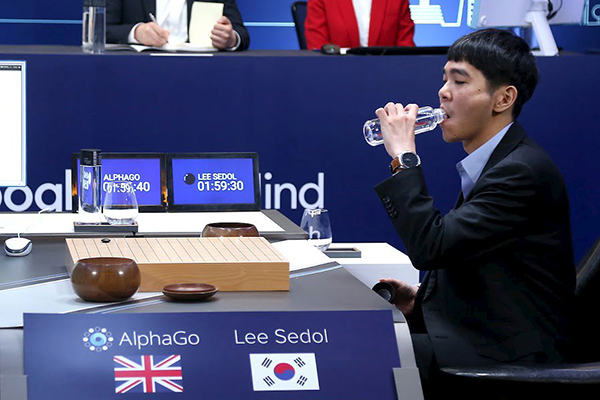 The world's top Go player Lee Sedol drinks water after putting the first stone against Google's artificial intelligence program AlphaGo during the third match of Google DeepMind Challenge Match in Seoul, South Korea, in this handout picture provided by Google and released by Yonhap on March 12, 2016. [Photo/Agencies]
SEOUL-- AlphaGo, the computer created by DeepMind, the Artificial Intelligence (AI) arm of Google, established a commanding three consecutive victories over South Korea's grandmaster Lee Sedol, winning the best-of-five human vs. machine Go-chess showdown on Satursday.
World champion Lee, one of the top players of the ancient Chinese board game, lost the Game 3 in a similar pattern, having to resign half way when it became clear the AlphaGo had taken an unassailable lead like the preceding two encounters.
The chance for Lee to win one game in remaining two matches as he aimed to after Game 2 now seems quite slim. The progress of AI technology is proved far beyond expectations ahead of the human vs. machine match-up as most experts had predicted that Lee will be the overall winner inlcuding former Google Vice President Kai-Fu Lee, who had assumed AlphaGo could not defeat Lee in their first face-off.
The scenario has never come up to Lee's imagination either. As a great Go player, who has topped the world ranking for much of the past decade, Lee confidently predicted an easy victory when accepting the AlphaGo challenge, but now finds himself fighting to avoid a whitewash defeat in the two remaining games on Sunday and Tuesday.
"AlphaGo played consistently from beginning to the end while Lee, as he is only human, showed some mental vulnerability," said one of Lee's former coaches, Kwon Kap-Yong.
"The machine was increasingly gaining the upper hand as the series progressed," Kwon said.