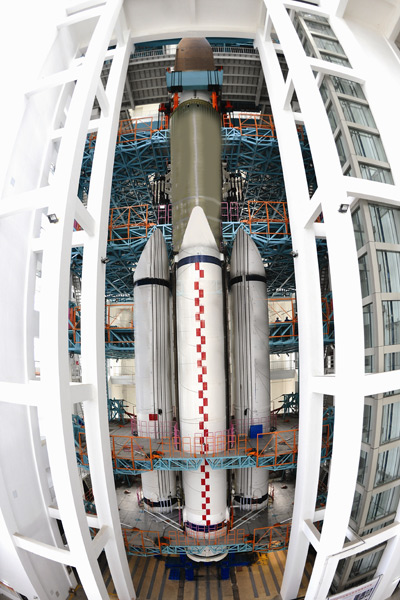 The Long March 5 is shown in this undated picture being tested at the Wenchang Satellite Launch Center in Hainan province.[Photo by Sun Hao/China Daily]
BEIJING - A Chinese rocket scientist said Wednesday that 110 China-made Long March rockets will take to the skies over the next five years, as more models are developed.
Liang Xiaohong, member of the Chinese People's Political Consultative Conference National Committee and a former head of the China Academy of Launch Vehicle Technology, said the past decade witnessed a rapid increase in the number of Long March rockets launched.
From 2011 to 2015, 86 Long March rockets were launched, and from 2006 to 2010 the number was 48, Liang said before the country's political advisory body convenes its annual session.
The increasing launches within the five-year time frame showed that China's capacity in rocket design, production and management have been improved significantly, Liang said.
In addition, the next-generation Long March 5 heavy lift rocket and medium Long March 7 will debut this year, and the heavy carrier rocket system is in development, Liang said.
"Those new-generation rockets will use environmentally friendly propellant and will feature first-class space technologies," he said.
The heavy carrier rocket, which will be comparable to the U.S. Saturn V, is expected to be launched in 15 years, the thrust of which will be five times the current force.
Moreover, it is expected that by 2020 China's Mars program will have begun, thanks to the Long March 5 rockets, and advanced stages including Expedition 2 will have been developed, the scientist said.
Over 200 Long March series rockets have been launched in over four decades.