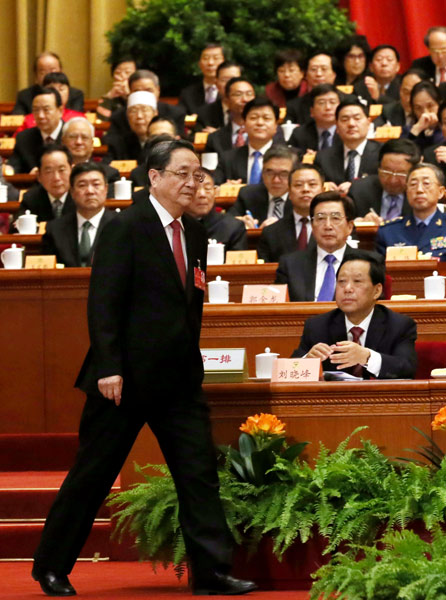 Yu Zhengsheng, chairman of the Chinese People's Political Consultative Conference National Committee, takes the stage to deliver the top advisory body's work report in the Great Hall of the People in Beijing on Thursday. [Photo by Zou Hong/China Daily]
China's top political advisory body vowed on Thursday to produce a series of "substantive" and "significant" investigation results and suggestions to push forward economic reform and efficiency this year.
The pledge came as the Chinese People's Political Consultative Conference convened its annual meeting in Beijing.
Yu Zhengsheng, chairman of the CPPCC National Committee, said the advisers will concentrate on implementation of the 13th Five-Year Plan (2016-20) and key economic issues such as supply-side structural reform aimed at cutting overcapacity and easing tax burdens on enterprises.
The advisory body will increase the number of special consultative meetings on major issues including industrial transformation and upgrading in Northeast China and encouraging entrepreneurship and innovation, Yu said.
"We will hold quarterly meetings to analyze the macroeconomic situation and make suggestions and proposals on promoting sustained and sound economic development," Yu told more than 2,100 political advisers from across the country as well as senior leaders attending the opening meeting.
The CPPCC National Committee will select a range of major issues, including those related to supply-side structural reform and development of high-end digitally controlled machine tools and industrial robots, for research and deliberation before giving policy suggestions, Yu said.
The meeting will last until March 14, while the National People's Congress, the top legislature, will start its annual session on Saturday.
The dual meetings, dubbed the two sessions, are China's most important annual events where political and economic developments are reviewed and key policies adopted. But at a time of slowing global economic recovery, economic issues are set to take center stage.
Premier Li Keqiang will unveil the country's economic growth target this year in his Government Work Report. The draft 13th Five-Year Plan will be reviewed and approved by the NPC.
Wang Guoqing, spokesman for the annual session of the political advisory body, answered 17 questions at a news conference on Wednesday. Nearly half of them centered on economic issues.
A separate report presented at the opening meeting showed that about one-third of more than 6,000 proposals submitted by the political advisers last year involved economic issues.
Chi Fulin, a member of the CPPCC National Committee, said: "I think a 6.5 to 7 percent GDP growth rate is achievable this year. The key is how to grab new growth opportunities."
The service sector is likely to contribute 52 percent of the country's GDP this year, up from 50.5 percent in 2015, said Chi, also president of the China Institute for Reform and Development.
Fu Yuning, also a member of the CPPCC National Committee, said cutting overcapacity will create pressure in the short term, but is conducive to healthy growth of the economy. "Some of our subsidiaries in the coal and property sectors cannot meet the economy's new requirements. We will take measures targeting these 'zombie firms'," said Fu, chairman of China Resources Holdings.
Li Xiang contributed to this story.
luhaoting@chinadaily.com.cn