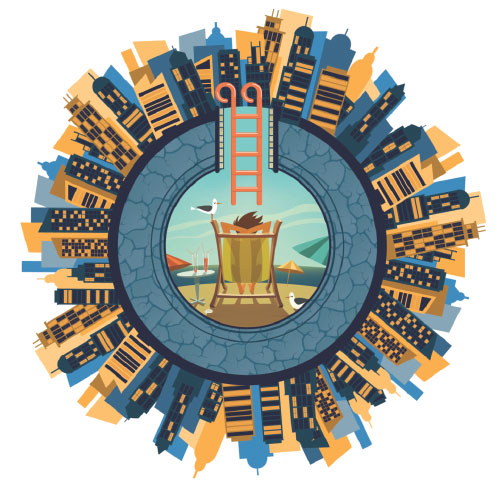 As land resources become increasingly scarce amid China's urban sprawl, local authorities have resorted to a new frontier for space: the world below our feet. A number of cities have decided to tap this underground space to reduce the mounting pressures on available land in high-density urban areas.
In late December, Wuhan, the capital of Hubei province, announced that construction had started on one of the country's largest "underground cities".
According to a blueprint released by the city government, the underground complex being built in the Optics Valley Central City will cost an estimated 8 billion yuan ($1.22 billion). The three-story project, scheduled to be completed within three years, will have an overall construction space of 516,000 square meters, equivalent to 72 soccer fields.
Qianhai New District, in Shenzhen, Guangdong province, has also unveiled plans to develop about 6.6 million square meters of underground facilities in its urban areas, according to a Dec 2 announcement on the district administration's official website.
"It is an irreversible trend that cities across China are looking for more space underground," said Chen Zhilong, president of the Chinese Society of Underground Space, a non-governmental academic organization that researches the development of underground spaces.
Chen said China's rapid urbanization, coupled with infrastructure problems, including shortages of land, severe traffic congestion and a lack of parking space, has motivated authorities nationwide to accelerate the development of subterranean construction programs: "In crowded urban areas, it will create space for shopping malls, public spaces, underground roads and pedestrian walkways."
Rapid development
Underground construction is not a new phenomenon in China's cities. At a forum last year, Qian Qihu, a member of the Chinese Academy of Engineering Sciences and a leading authority on the development of underground space, said that since the start of the century, the country has developed three times the area of underground space than during the preceding 46 years.
More than 2,000 underground facilities were developed between 2011 and last year, and Shanghai and Beijing have each developed more than 50 million sq m of underground facilities so far, he noted.
According to a white paper published by the Chinese Society of Underground Space last year, as of 2014, at least 40 cities had drawn up plans for the development of underground resources.
With more subterranean spaces set to be developed in coming years, experts said the major challenges will be related to a lack of legislation on the use of underground resources and the absence of official supervision.
At present, the only legislation on the development and use of underground space is a regulation issued by the Ministry of Housing and Urban-Rural Development in 1997.
Yang Xu, vice-president of the China City Development Academy, who has conducted research into the development of underground space, said the regulation lacks bite compared with specially formulated laws.
"The lack of a specific law means it's difficult for the authorities to formulate a national-level plan on the development of underground space. A law would also clearly identify the responsibilities of the government department that supervises the area," he said.
Also, without specific legislation, the property rights related to a large number of underground facilities remain unclear, he added.