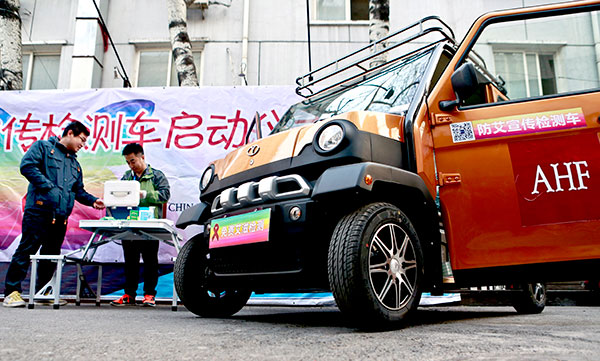 Staff members prepare medical equipment for an HIV-testing vehicle in Beijing on Tuesday. Feng Yongbin / China Daily
Country has more than 2,000 centers for those at risk, but some reluctant to use them
Mobile HIV-testing vehicles will hit the streets of the capital, providing free tests to young gay men in particular and helping link the needy with follow-up treatment.
The first five electric minicars with three seats each were launched at an art exhibition held on Tuesday by the UNAIDS China office and the National Center for AIDS/STD Control and Prevention Center to mark Global Zero Discrimination Day, which fell on March 1.
They will travel to areas frequented by gay men, such as certain bars, bath houses and parks to reach out to the group for intervention and care, according to Xiao Dong, head of the team, which currently has 15 volunteers.
"Some of them speak English, and foreigners are welcome to come for the free tests as well," he added. No ID is required.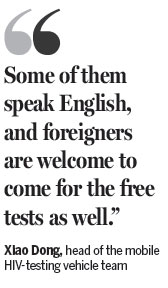 Oral swab kits are used and give results in 15 minutes, he said. Follow-up counseling and referral to treatment and care will be given to those who test positive.
Wu Zunyou, head of the National Center for AIDS and Sexually Transmitted Disease Control and Prevention, welcomed such a pioneering approach, saying "it would help supplement current testing methods and reach out to the susceptible more actively".
Currently, China has more than 2,000 government HIV testing and counseling outlets for free tests, but many individuals at risk, particularly gay men, are reluctant to go.
According to Wu, the HIV epidemic has been hitting young gay men hard.
Last year, among the newly detected HIV cases involving male students aged 15 to 24, nearly 81 percent contracted the virus via gay sex.
However, "they are difficult to reach for intervention using current testing strategies", Wu said.
Zhao Ke, editor-in-chief of gay magazine Gayspot, said he preferred the latest method, citing easier access.
But he said many young gay men turn to mobile apps to find dates, so "mobile technology should be used to reach out to them as well."