Domestic violence cases in which husbands are the victims are on the rise, according to a survey taken after the country's first anti-domestic violence law took effect on Tuesday.
In some provinces, more females than males admitted they had inflicted violence on a spouse, according to a national survey published by Chinese child care portal Babytree.com.
In Guizhou province, nearly 70 percent of the female respondents in the poll said they had engaged in verbal abuse, physical violence or cold wars against their husbands, while only 52 percent of the male respondents said they had engaged in such behaviors, including scolding or humiliating or forcing sex on their wives.
Nearly 2,500 married men and women participated in the poll, with roughly half of them in the 25 to 30 age bracket. Nearly 60 percent of them had received a college education or advanced degree.
"Although some of the behaviors, such as a cold war, are not included as behaviors of domestic violence in the law, they cause mental suffering in the long run, and the marriage falls apart in some cases," said Zhu Meihua, a sociology professor in the department of social work at East China University of Science and Technology.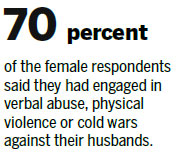 Shu Xin, director of the China Marriage and Family Affairs Consulting and Research Center, a nongovernmental organization, said the center had rarely received cases in which the wife was the initiator of family violence up to 2012, but the figure, though small, has increased steadily to around a dozen last year.
The first case accepted by Shanghai courts after the law took effect involved a 48-year-old man who sued his wife, who is five years younger, for abusing him violently and often. He asked for divorce and the custody of their 1-year-old son.
He wrote in his petition that he suffered dislocation of the joints in his arms and bruises to his elbows after being repeatedly bullied by his wife.
"In addition, the man said his wife usually humiliates him with degrading words," said Wang Zhiguo, a publicity officer at the Shanghai Pudong New District People's Court.
"The main reason for the change is that women are becoming more independent and have a higher family status in many families, especially those in big cities, which is very different from the traditional culture in China," Shu said.