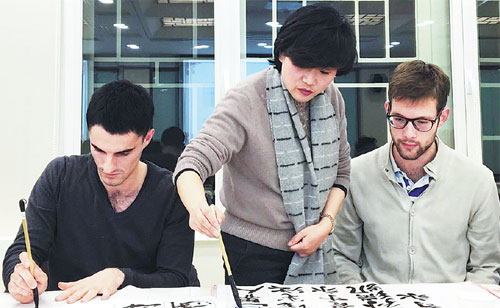 Students practice Chinese calligraphy under the guidance of a teacher at Peking University's Yenching Academy in Beijing. Provided to China Daily
A recently launched graduate program at one of China's leading research universities in Beijing is looking to give its scholars a deeper and fuller understanding of the country.
Yenching Academy at Peking University is open to talent from around the world, and is working to ensure that its students explore every aspect of China, said John Holden, its associate dean.
The program does not constrain students to a certain path of study, he said. Its offering is like a menu for students to select from according to their own needs.
In this way, Holden said, the program prepares students with context for a deep understanding of China so that they can grasp what is the right question to ask and finally come out of the program "with a comprehensive picture" of the country.
The Yenching program, as it is known, differs from a PhD program that requires students to specialize. It is also unlike training courses that only focus on specific techniques, he said.
"We will open up a universe of knowledge about China to allow people to explore and to define their own course of study," Holden said. "That is very important because you can't learn everything. You should focus on the theme that is the most meaningful to you."
The first cohort of 96 Yenching scholars, all supported with full scholarships, enrolled in September. They came from 55 universities in China and around the world.
Alex Palmer from the United States said he was impressed by the opportunities on offer, both in terms of the people he had met and the academic opportunities put forward. All these gave him a new understanding of China.