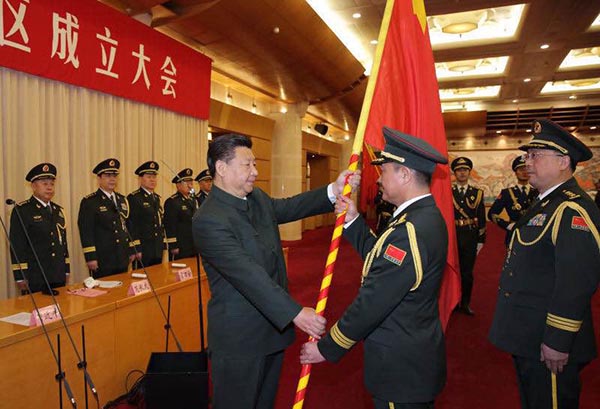 President Xi Jinping (L, front), also general secretary of the Communist Party of China (CPC) Central Committee and chairman of the Central Military Commission, confers a military flag to Commander Liu Yuejun and Political Commissar Zheng Weiping of the Eastern Theater Command in Beijing, capital of China, Feb 1, 2016. Xi on Monday conferred military flags on the five newly-established theater commands of the People's Liberation Army (PLA). [Photo/Xinhua]
The 27th Group Army recently became the first army of the People's Liberation Army to relocate its headquarters in the country's new military reform, the military newspaper PLA Daily reported on Thursday.
The 27th Group Army, which has a long and honorable history, received a relocation order from the Central Military Commission on Dec 2 to move from North China's Hebei province to new barracks in Shanxi province before Jan 5.
The army's leading group later held a meeting to arrange the relocation work. Soldiers and officers left for Shanxi's barracks separately on Dec 14, 23 and 27.
The relocation was completed by the end of last year.
143 barracks and more than 2,600 pieces of equipment in the headquarters in Shijiazhuang has been registered and recorded. The remaining fifty-one million yuan in maintenance fees for the 27th ground army will be left to a newly established ground force unit, the PLA Daily reported.
In November, the Central Military Commission held a three-day PLA reform meeting in Beijing, during which President Xi Jinping, also the chairman of the Central Military Commission, gave guidelines on reform.
The general command for the PLA Army, the PLA Rocket Force and the PLA Strategic Support Force were established. President Xi conferred military flags at their inauguration ceremony held on Dec 31 in Beijing.
After the reshuffle, the People's Liberation Army was regrouped into five new theater commands to replace the former seven military area commands. The five commands are the Eastern Theater Command, the Southern Theater Command, the Western Theater Command, the Northern Theater Command and the Central Theater Command.
President Xi conferred the military flags of the five theater commands to their leaders on Feb 1 in Beijing.