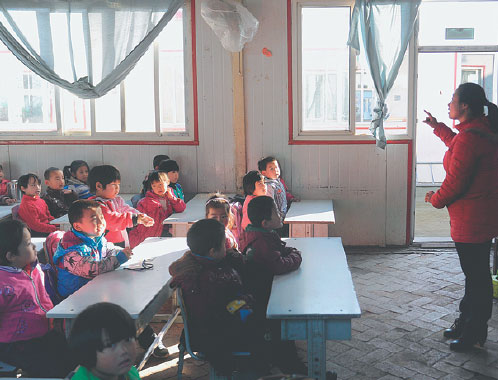 A teacher and her students at Beijing Xingzhi Experiment School in November 2012. Yin Yafei / For China Daily
Lack of opportunity
Children of migrant workers without hukou, or residence permits, have long experienced difficulty in gaining equal access to compulsory public education (grades one through nine) in large cities.
Parents must submit at least five different certificates, including documents confirming their work and home addresses, before their children can enroll in Beijing's schools.
Since 2014, many schools have required parents to submit a record of social security payments they have made in Beijing, a stipulation that some experts believe has further prevented most low-income migrant workers from sending their children to public schools.
Although many better-paid migrant workers without hukou choose to send their children to private schools, which charge more than public schools, that's not an option for people at the lower end of the scale.
According to a public consultation document released by the Beijing municipal government in December, migrant workers can apply for Beijing hukou based on "credits", including employment status, educational history and tax payments.
However, a number of basic requirements also have to be met; applicants must be no older than 45, and they must have paid social security contributions in Beijing for at least seven consecutive years.
The capital plans to cap the city's population at less than 23 million by 2030 to solve problems such as traffic congestion and air pollution. The current population is about 21.5 million.
In recent years, the authorities have implemented other measures, including moving low-end industries that employ large numbers of migrants, to neighboring Hebei to lower the population.
Even now, the Dandelion School is struggling to overcome difficulties such as a lack of funding. Its nonprofit status means teachers are paid less than their peers in public schools, resulting in regular departures.
According to Principal Zheng, as a nonprofit school for poor children, most of Dandelion's funding comes from donations from home and abroad. "The school has almost ground to a halt three times in the past 10 years," she said.
"Luckily every time we almost gave up, we were helped by our donors, so the school has survived," she said.
"I think Beijing needs more schools for the least-privileged children," she added. "They have no hukou, so they can't attend public schools, but they are poor so they can't go to expensive private schools either."
The students come from 24 provinces and autonomous regions, most of them underdeveloped, mountainous areas. Their parents are mostly uneducated, and work in construction or as vegetable vendors, she added.
Zhao, the teacher, said the school provides low-cost education for the students, who pay 3,400 ($520) a year for dorm fees, three meals a day, uniforms, insurance and tuition.
Ma Baohua, a 13-year-old seventh-grader from Baoding in Hebei, said that when she attended a private primary school for migrant children in Daxing, the dorm fees were more than 1,000 yuan a month, a huge sum for her single-income parents.
Gao Wan, an English teacher at the school, said she likes the students because they are polite and obedient, although their test scores are usually very low when they enroll. "Some can't even recognize all 26 letters of the English alphabet when they are admitted," she said. "However, many progress very quickly."
She said many students move to high schools in areas near Beijing, such as Gu'an and Langfang, while others attend vocational schools. She was unable to recall any who had been admitted to a high school in the capital.