Young Chinese planning to study in the United States are being advised to seek alternatives to the Scholastic Assessment Test, as a recent overhaul has made it more challenging for non-English speakers.
Liu Xiaowei, consultant director of the Undergraduate Department at Beijing-based AW Education International, said she was advising all her clients who plan to enroll in the fall semester of 2017 that they'd better prepare for the American College Test, another college placement test in the US, instead.
Sample questions from the revised SAT that have been released by the College Board, which administers and develops the tests, do not include many of the question types that Chinese students are usually good at, according to Liu.
Simple math and short reading passages have been replaced. "Instead, we can see a rising bar as test-takers have to read longer passages, master the meanings of words in different contexts and get to know more about the history of the US," said Liu, who has been working in the overseas study consulting industry for 13 years.
"Generally speaking, the revised test is not so friendly for Chinese test-takers. More time will be required, about a year, for Chinese students to prepare for the test if they want good scores."
Zhang Weiyong, director of the US division of overseas study consultancy Golden Orient in Beijing, has also suggested that his clients turn to other tests.
"Many Chinese students were admitted to some of the best US universities after scoring high or even full marks in the former SATs, but the changes may mean it is no longer easy for Chinese students to excel," Zhang said.
He also anticipated a reduction in the number of Chinese students taking the SAT this year as "SAT tutorial classes in China are very sensitive to changes, especially when the changes are not so favorable to them".
However, Zhao Li, a teacher who has helped Chinese students prepare for the SAT for 15 years, was not so pessimistic.
"From my own observations, the changes made to the test actually present a good opportunity to excel," she said. "After an overhaul, the first few tests are not very hard and there aren't so many competitors because some have been frightened away."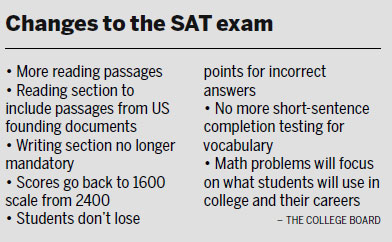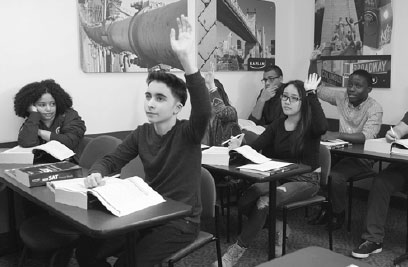 Students attend a prep course for the SAT held by Kaplan Test Prep in New York. A new overhauled SAT exam will be given to US students in March and international students in May, with a heavier focus on reading comprehension. Provided to China Daily