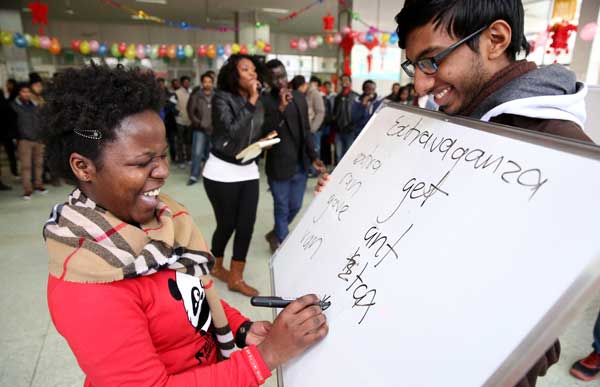 Musiyazwiriyo Selina Vimba, a student from Zimbabwe, joins in a game to celebrate Spring Festival at Jiangsu University in Zhenjiang, Jiangsu province, on Feb 2. YANG YU / FOR CHINA DAILY
Geography and fees
Chen Zhiwen, editor-in-chief of EOL, China's largest online education portal, said it is understandable that a large number of China's international students come from countries in Asia and Africa.
"Looking at the picture across the world, international students have two general directions of mobility — traveling within their own continent, or traveling from underdeveloped and developing countries to developed countries," he said.
According to Fang, affordability is one of the factors that international students find most attractive about studying in China. He has noticed that medical students account for more than one-fifth of the long-term academic body, and many of them are from Myanmar, Laos, India and Sri Lanka.
"Those countries are unable to nurture their own medical talent, which means their students have to travel overseas if they want to study medicine," he said. "It's much easier, cheaper and more convenient to study medicine in China compared with Western countries."
The charging standards released by the Ministry of Education show that an international student studying at undergraduate level pays an annual tuition fee of 14,000 yuan to 26,000 yuan ($2,100 to $3,600). In the UK, the cost of undergraduate study varies greatly between public and private universities, but most students pay around 10,000 pounds ($14,500) a year.
"At present, China mainly relies on its cultural, cost-performance and geographic advantages to attract international students," Fang said. "In the future, the focus should be shifted to improving the quality of education and forging a good reputation to attract more brilliant international students from different countries."