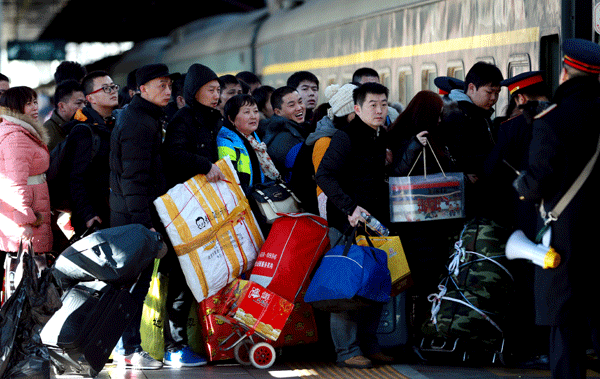 Passengers wait to get on a train at Beijing West Railway Station on Friday. ZOU HONG / CHINA DAILY
With no savings and no girlfriend, Tang Shijie said going back to his hometown in Hunan during Spring Festival put a lot of pressure on him.
"But when I got home, my parents didn't ask me about income or relationship. They only cared about whether I was happy and healthy living alone in Guangzhou," said the 30-year-old salesman. "It is nice to have a place that you can always go back to and have people who always love you."
Since 2013, he has been selling razors in Guangzhou, earning about 2,000 yuan ($300) a month.
Another reason he wanted to go home is that almost all of his friends in Guangzhou were returning home, Tang said.
"Buses are empty. Stores are closed. It would be too lonely staying in an empty city," he said. "Spending the holiday at home, on the other hand, gives me a feeling of happiness and comfort."
Record-high travel is expected during the holiday rush ahead of the Year of the Monkey, which begins on Monday.
Between Jan 24 and Feb 2, more than 740 million trips were made in China, an increase of 2.5 percent year-on-year, according to the Ministry of Transport. On Saturday and Sunday, two days before Spring Festival begins, 82 million trips are expected each day.
Beijing West Railway Station has received more than 200,000 passengers daily in the past week, which is twice the flow of regular days. Song Jianguo, the station's spokesperson, said the number set a record.
The intense human traffic comes from the floating population of big cities. According to the National Bureau of Statistics, 38 percent of more than 21.7 million Beijing residents had their household registration in other cities last year.
In Guangzhou, 7.8 million residents don't have a local registration.
Big data released by search engine Baidu revealed that during the Spring Festival migration, people are flowing from big cities to smaller ones, and from coastal areas to inland regions.