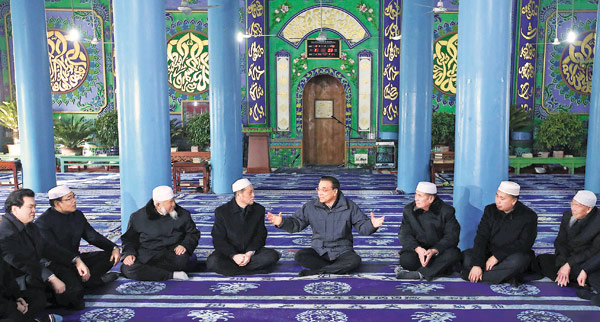 Premier Li Keqiang chats with a group of ethnic Hui people on Tuesday at the Najiahu Mosque in Yongning county, Ningxia Hui autonomous region. Pang Xinglei / Xinhua
A mosque in the Ningxia Hui autonomous region welcomed a special visitor on Tuesday when Premier Li Keqiang stepped into the main hall and chatted with a group of Muslims.
The premier visited the Najiahu Mosque in Yongning county on the second day of his trip to Ningxia ahead of Spring Festival.
Built during the Ming Dynasty (1368-1644), the mosque is one of the most historic in Ningxia.
It embraces a history of 492 years and has been refurbished many times, the most recent being in 2014, when it was enlarged. It is maintained by 4,500 Muslims in Yongning county.
Removing his shoes, Li stepped into the main hall and sat down with the Muslims to talk with them and learn about their lives and ideas.
He said he was delighted to visit the mosque and see that it had been refurbished well.
"There is a famous saying in Chinese that a harmonious family brings the prosperity of everything," the premier said as he began talking with the ethnic Hui people at the mosque.
"I am very delighted to see that the lives of local people in Ningxia have improved a lot."
Yang Faming, vice-president of the regional Islam Association, sat beside Li during the discussion.