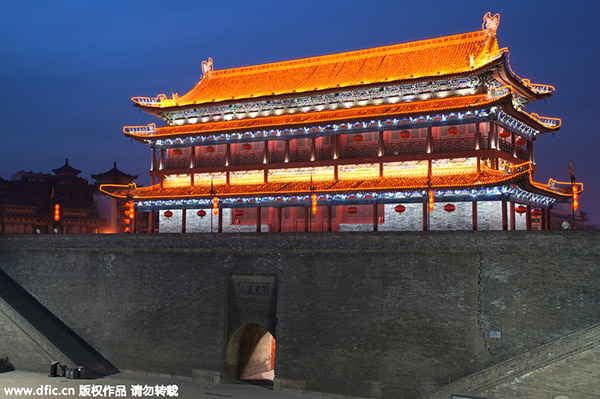 Night view of the Yongning Gate — the oldest gate in the ancient city wall of Xi'an, which dates back to the Ming Dynasty (1368-1644). [Photo/IC]
Xi'an, Shaanxi province, will be one of several venues for China Central Television's Spring Festival Gala for the year of Monkey, which will be aired on Feb 7.
CCTV, which has presented the gala annually since 1983, announced over the weekend that the Yongning Gate — the oldest gate in the ancient city wall of Xi'an, which dates back to the Ming Dynasty (1368-1644) — will be part of the big show.
A landmark of Xi'an, the Yongning Gate has been the location for many important events. The city, which is the hometown of President Xi Jinping and the starting point of the ancient Silk Road, was where Xi received Prime Minister Narendra Modi of India in May.
The TV gala will have its main venues in Beijing, with five other venues — Xi'an, Quanzhou in eastern Fujian province, Guangzhou in southern Guangdong province and Hulun Buir in the Inner Mongolia autonomous region — to show people nationwide celebrating the most important festival together by singing the same song at the same time.
The size of Xi'an equals to about six London with the similar population of more than 8 million.
Once Xi'an was chosen to be one of the venues for the gala, citizens showed their enthusiasm for joining the event on the eve of Spring Festival.
Many have been asking the local authority how to participate in the TV broadcast at the Yongning Gate, but detailed plans have not yet been released.
Usually, tickets for the gala are not for sale, but are given by invitation.
"Our city is becoming more modern than before. I am glad the gala will be held here, which will attract more tourists and foreign visitors," said Lin Jingjing, a college student at Xi'an International Studies University.
Guo Lifei, a college teacher, said she is proud of Xi'an, which is her hometown, but she will stay at home to watch the show on TV rather than attending because it is too cold this winter.
This year will be the second time for Xi'an to be a gala venue.
In 1996, the gala set two locations — Shanghai and Xi'an, in addition to Beijing as the main stage.
As China's One Belt, One Road Initiative becomes increasingly important in the country's economic growth, Xi'an, as the stat of the ancient Silk Road, has gradually shown its advantages.
The local authorities are building a major logistics center in the city because of its position in western China.