North China gets Spring Festival gala for the elderly
(chinadaily.com.cn)
Updated: 2016-01-20
The city of Baotou, Inner Mongolia autonomous region held a program, on Jan 14, the first of its kind, where hundreds of elderly people could put on a performance to mark this year's Spring Festival, China's most important holiday, which comes on Feb 8.
It is part of the local government's efforts to enrich the lives of the elderly by providing a place, a local theater, for them to gather together and show their talent.
The organizers selected 26 programs from more than 200 proposals, and arranged an online vote on WeChat, a popular online social platform, for people to select the best programs to put on stage.
The gala had performances involving dancing, singing, choral arrangements, opera, cross-talk, and comedy sketches.
There were also performances by children, with Wei Shaoru, general director of the event, saying that they wanted to increase communications and exchanges across the generations in hopes of giving vitality to the elderly while letting children understand older people's lives better.
It was shown on a website at the same time and will be shown on Baotou TV.
The gala was the work of the city's spiritual civilization committee, veteran cadres bureau, civil affairs bureau, broadcasting and TV station, and committee office on aging, which wanted to promote public respect and care for the elderly.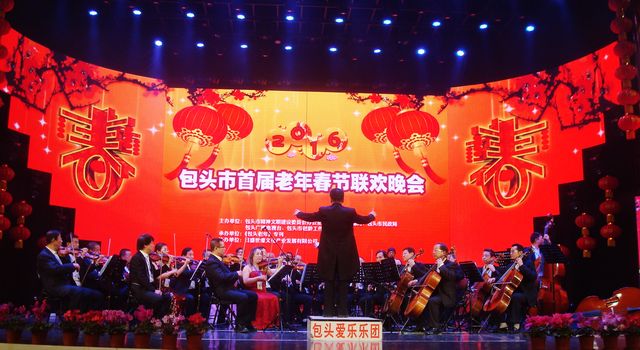 Orchestral performance on Baotou Spring Festival gala for the elderly. [Photo/www.btgdt.com]