Inner Mongolia industries
(en.nmg.gov.cn)
Updated: 2013-12-17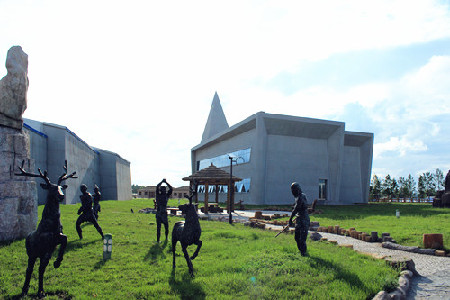 The Inner Mongolia region is an important area for energy , heavy chemicals, and agricultural and animal products. Photo by Wang Yihao
The Inner Mongolia region is an important area for energy , heavy chemicals, and agricultural and animal products. The following industries each have their own distinct features and advantages, namely the energy industry, metallurgy and construction material industry, agricultural and livestock products processing industry, chemical industry, equipment manufacturing industry, and hi-tech industry, among which the equipment manufacturing industry, hi-tech industry and modern service industry are developing rapidly.
Energy
The region produced 1.06 billion tons of coal and 1.98 million tons of crude oil, in 2012, and generated 78.28 million kW of electricity, with 16.70 million kW of that from wind.
Chemicals
It is making progress in coal-to-oil, coal-to-olefin, coal-to-gas, and coal-to-glycol conversion projects, producing a total of 5.53 million tons of carbinol in 2012, as well as 1.06 million tons of coal converted to olefin, 1.4 million tons of coal into oil, and 1.33 billion cubic meters of coal into gas.
Chlorine and alkali chemicals
The region's total chloride output was 3.1 million tons.
Metallurgy and construction materials
The region's steel output reached 16.62 million tons, in 2012, while output of 10 types of non-ferrous metals reached 5 million tons, with 2.3 million tons of that in aluminum and aluminum strip and foil. In the construction materials area, cement output reached 58.72 million tons and ceramic tiles, 10.81 million square meters.
Equipment
The region has heavy-duty vehicle, wind-power equipment, railway equipment, oil equipment, and engineering equipment centers, which give it a heavy-duty vehicle production capacity of 50,000 units; passenger vehicles, 150,000 units (300,000 diesel), railway cars, 4,000; and wind power generators, 7,000. Production of new energy vehicles has begun along with televisions and mobile phones.
High technology
The city of Baotou is a rare earth base with a complete industrial chain. It also has many top products, such as NMR spectrometers, and produces more than 10,000 tons of polycrystalline silicon and monocrystalline silicon annually.
Its cloud computing industry is developing rapidly and biomedicines are making steady progress. The cities of Hohhot, Tongliao, and Chifeng have built a an industrial chain for bulk pharmaceuticals, animal vaccines, pesticides, fermented products, Sino-Mongolian medicines, and chemical synthetic medicines. Hohhot has a bio-medical cluster with China's biggest bio-fermentation base, dominated by medicines and related raw materials production.
Agricultural and animal products
The region produced 25.3 billion kg of grain, 2.46 million tons of meat, and 9.1 million tons of milk, in 2012 and, in 2011, produced 3.83 million tons of dairy products. Its mutton and cashmere are at the very top in China.
As a result, it has many famous brands, such as Yili and Mengniu in dairy products, Khorchin Fat Cow brand, and Erdos.
Service sector
The region has seen rapid growth in services, including business logistics, transportation, finance and insurance, information, and ports, and its tourism contributed 106 billion yuan to profits, in 2012.